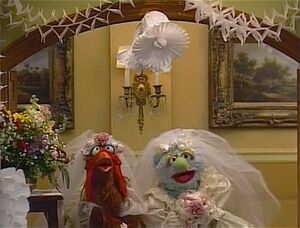 Humphrey and Ingrid recall the time they first met, fell in love and got married. Humphrey was a working as a lowly bellhop at the Furry Arms, wondering when his love will revolve through the door. Sure enough, Ingrid enters (a part of a chicken dance troupe) and the two fall in love at first glance. Just to be certain it's love, she re-enters and sees if they're in love upon second glance, then third, fourth, fifth... Later, the two are married in the hotel.
Ad blocker interference detected!
Wikia is a free-to-use site that makes money from advertising. We have a modified experience for viewers using ad blockers

Wikia is not accessible if you've made further modifications. Remove the custom ad blocker rule(s) and the page will load as expected.