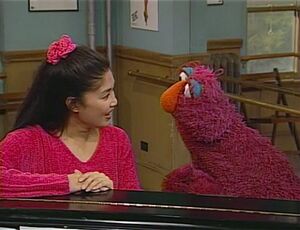 Picture
Segment
Description

SCENE 1
Telly arrives late to a sing-along being held at Celina's dance studio, with Big Bird, Luis and the kids. They all then sing "Let's Sing a Song That Everybody Knows." Afterwards, Celina tells them they'll be singing a song that nobody knows.

Film
Wegman's dogs form all the letters of the alphabet.
(First: Episode 3266)

Animation
Wooden shapes group themselves by color, then regroup by shape, then assemble themselves into a rocket ship.
(First: Episode 3229)

Muppets
Muppets cheer on a rocket launch.
(EKA: Episode 1092)

Cartoon
A lizard sings about how she likes to be "Above it All" as well as below.
Artist: Sally Cruikshank
(EKA: Episode 2572)

Muppets
Elmo and Zoe demonstrate above and below with a cloud.
(First: Episode 3367)

Song
"There's a Lot of Different Ways to Get to School" (sung by Jerry Nelson)
(First: Episode 2751)

Cartoon
A little boy asks his big brother questions about what happens at school.
Artist: John Korty
(EKA: Episode 1930)

Muppets
Baby Tooth and the Fuzzy Funk: Caribbean dance
Part 1
(First: Episode 3136)

SCENE 2
Telly worries over learning a song that nobody knows, but he finds it's easy to learn as Celina sings it to him ("Sing After Me"). Telly takes the second verse and comes up with his own, silly lyrics. He now wants to teach it to Oscar the Grouch.

Film
Two girls count to five as they clap.
(First: Episode 3007)

Muppets
"Elmo's Jive Five"
(First: Episode 2939)

Cartoon
Five Swans (Maria voiceover added)
Artist: Owe Gustafson
(First: Episode 1460)

Film
Kids talk about how many things they can do now that they're five years old.
(First: Episode 1403)

Cartoon
A boy has fun with his wood plank.
(EKA: Episode 1612)

Film
A Caucasian boy narrates a film of himself hanging out with his African American friend Jamal.
(First: Episode 2787)

Cartoon
A girl describes why she likes the color black.
Artist: Lisa Crafts
(First: Episode 3105)

Muppets
Baby Tooth and the Fuzzy Funk: Caribbean dance
Part 2
(First: Episode 3136)

SCENE 3
Telly tells Oscar all about the song at his newsstand and tries to initiate a performance of it. Oscar insists that Telly sing the whole song, both of their parts, so he can understand it better and fully judge whether or not he wants to participate. Telly goes through the whole song, but Oscar doesn't want to sing any of it.

Cartoon
"Mad Goat Song"
Artist: Derek Lamb
(EKA: Episode 0824)

Muppets
Muppet & Kid Moments: Samantha talks to Grover about what she does when she gets angry.
(First: Episode 3531)

Film
Alphaboy: Nibbling Noodles with Neighbor Nora
(First: Episode 3465)




Muppets
NTV host Nora Nicks introduces Nick Normal and the Nickmatics singing "The Letter N."
(EKA: Episode 2176)

Cartoon
N is for nose (new music added)
Artist: Jeff Hale
(EKA: Episode 1929)

Film
A group of kids paint a mural with the help of a mural artist.
(First: Episode 3007)

Muppets / Celebrity
Big Bird introduces ballet dancers Jock Soto and Lourdes Lopez, as they demonstrate up and down.

Animation
Buttons ride a rollercoaster "up and down."
(First: Episode 3207)

Song
Leon Redbone sings "What Do They Do When They Go Wherever They Go?"
(First: Episode 3312)

Muppets
Baby Tooth and the Fuzzy Funk: Caribbean dance
Part 2a
(First: Episode 3185)

SCENE 4
Everyone comforts Telly after the trick Oscar pulled, when Oscar returns, willing to sing. He has one proviso: everyone will sing after him. He starts singing, altering the lyrics to be more Grouchy. To his dismay, Telly and the others enjoy this new version and opt to sing it again.

Cartoon

Two viewers with Picassoesque facial features in an art gallery critically examine the portrait of a viewer.
Artist: Mo Willems
(First: Episode 3442)

Song
"Playground Map Song"
(EKA: Episode 2680)

Muppets
Monsterpiece Theater: "Dances With Wolves"
(First: Episode 3234)

Cartoon
A tiny ant pushes the huge N into its place in the alphabet.
(EKA: Episode 0868)

Cartoon
Nancy the nanny goat nibbles her nails and notices noodles.
Artist: Tee Collins
(EKA: Episode 0306)

Film
The floating kids form a letter N.
(First: Episode 3109)

Cartoon
A red man tries to get apples from a tree by himself, while a yellow man builds a ladder.
(EKA: Episode 0543)

SCENE 5
Everyone continues singing the song and Oscar gives up and joins along. Celina announces the sponsors.

COMING SOON
Coming Soon on Sesame Street: The Furry Arms holds a chicken/monster wedding.