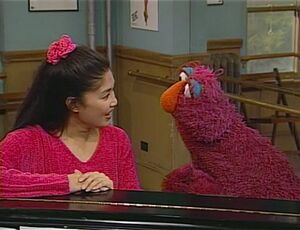 This episode guide has been compiled from incomplete video material.
Picture
Segment
Description

SCENE 1
Telly arrives late to a sing-along being held at Celina's dance studio, with Big Bird, Luis and the kids. They all then sing "Let's Sing a Song That Everybody Knows." Afterwards, Celina tells them they'll be singing a song that nobody knows.

Muppets
Baby Tooth and the Funky Funk: Caribbean dance
Part 1
(EKA: Episode 3136)

SCENE 2
Telly worries over learning a song that nobody knows, but he finds it's easy to learn as Celina sings it to him ("Sing After Me"). Telly takes the second verse and comes up with his own, silly lyrics. He now wants to teach it to Oscar the Grouch.

Muppets
Baby Tooth and the Funky Funk: Caribbean dance
Part 2
(EKA: Episode 3136)

SCENE 3
Telly tells Oscar all about the song at his newsstand and tries to initiate a performance of it. Oscar insists that Telly sing the whole song, both of their parts, so he can understand it better and fully judge whether or not he wants to participate. Telly goes through the whole song, but Oscar doesn't want to sing any of it.

Cartoon
"Mad Goat Song"
Artist: Derek Lamb
(EKA: Episode 0824)

Muppets
Baby Tooth and the Funky Funk: Caribbean dance
Part 2a
(EKA: Episode 3185)

SCENE 4
Everyone comforts Telly after the trick Oscar pulled, when Oscar returns, willing to sing. He has one proviso: everyone will sing after him. He starts singing, altering the lyrics to be more Grouchy. To his dismay, Telly and the others enjoy this new version and opt to sing it again.

SCENE 5
Everyone continues singing the song and Oscar gives up and joins along. Celina announces the sponsors.

COMING SOON
Coming Soon on Sesame Street: The Furry Arms holds a chicken/monster wedding.
Ad blocker interference detected!
Wikia is a free-to-use site that makes money from advertising. We have a modified experience for viewers using ad blockers

Wikia is not accessible if you've made further modifications. Remove the custom ad blocker rule(s) and the page will load as expected.