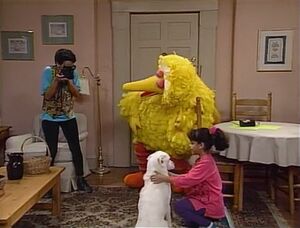 This episode guide has been compiled from incomplete video material.
Picture
Segment
Description

COLD OPEN
While running through Central Park, Luis is followed by what appears to be a stray dog. He doesn't see any potential owners around and notices a cut on his paw. Luis decides to bring him back to Sesame Street.

SCENE 1
Luis returns to the street, finding Big Bird, Maria and Gabi playing ball. Gabi wants to keep the dog, but her parents insist on finding the owner. Big Bird, who notices the dog doesn't have a collar, pushes for them to keep the dog as well.




SCENE 2
Maria waits back at home, when Luis, Gabi and Big Bird return with the dog, whom the vet claims is less than a year old. Maria gets the dog ready to snap a photo of him for the "Lost Dog" posters she'll be making. She starts getting some info down on the paper.




SCENE 2 cont'd
Since the photo won't accurately depict how big his, Luis produces a scale to weigh him with. Luis picks up the dog and stands on the scale with him, then subtracts his weight from the total to get the dog's. Maria finishes the poster and goes to get her purse, when the dog chews up the poster. Big Bird takes it as a sign he wants to stay.

SCENE 3
Luis returns, having put up posters everyone advertising the missing dog. They immediately get a call from a Pumpkin Anything Muppet looking for his dog, Spot. The found dog seems to match the man's description, when Spot happens to return that very instant. Gabi and Big Bird cheer that the dog gets to stay, though Maria insists that despite his having to spend the night with them, they'll make more attempts to find his real owner tomorrow.

SCENE 4
Maria and Luis comment on the dog and find Gabi snuggling him in her sleep. Big Bird announces the sponsors.

Known missing segments

Picture
Segment
Description

Insert
Celina teaches everyone a new dance inspired by Natasha - the "Baby Boogie."
(First: Episode 3180)

Muppets
The Count sings "Little Miss Count Along" with Zoe.
(EKA: Episode 3393)

Insert
Hoots the Owl sings a special nighttime edition of "The People in Your Neighborhood."
(First: Episode 2619)
Ad blocker interference detected!
Wikia is a free-to-use site that makes money from advertising. We have a modified experience for viewers using ad blockers

Wikia is not accessible if you've made further modifications. Remove the custom ad blocker rule(s) and the page will load as expected.