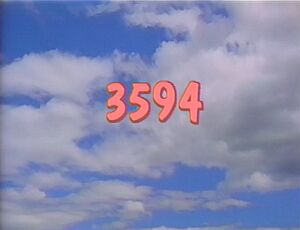 Picture
Segment
Description

SCENE 1
Today, Baby Bear will be imparting his "Secrets of a Happy, Healthy Life," starting with the first step - a good breakfast with a bowl of porridge. Goldilocks interrupts him, shilling her basket of fruit, muffins and fish.

Song
"You Don't Have to Be a Grizzly" ...to eat some honey!
(EKA: Episode 3398)

SCENE 2
(insert)
Baby Bear sings a "scrubby scrubby" song as he takes a bath. As he finishes, he discovers Goldilocks has been in the tub with him breathing from a snorkel.

SCENE 3
Baby Bear's next secret of happiness is poetry. He attempts to recite "Peas Porridge," but Goldilocks interrupts and finishes it for him, believing she is helping. Baby Bear begs that she just leave him alone and not help anymore. She agrees and Baby Bear thanks the heavens.

Cartoon
Jim Thurman sings "Calcutta Joe." (new sound effects added)
Animation by Buzzco Associates, Inc.
(EKA: Episode 2492)




SCENE 4
The next secret to Baby Bear's happiness is "sharing knowledge with a friend." He has his "happy glasses" to show how they can be the same and different simultaneously. When he concludes his lecture, he finds he can't put the glasses back down without a free hand. Goldilocks happens by and Baby Bear asks for her help, when she reminds him of their previous agreement.

Animation
Cecille

SCENE 5
Baby Bear convinces Goldilocks to break her promise and help him. She agrees, then hijacks the closing by quickly announcing the sponsors.

COMING SOON
Coming Soon on Sesame Street: Snuffy stars in a pageant by Bob, posing as Prairie Dawn.