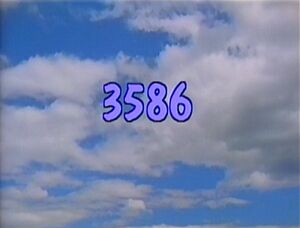 This episode guide has been compiled from incomplete video material.
Picture
Segment
Description

SCENE 1
Telly introduces the viewer to Kathleen the Cow, who is sad she doesn't understand what "love" is. Telly and Lexine try to explain it, starting with how to love one's doll. Kathleen doesn't have one, so head to Finders Keepers to find one.

Animation
The word LOVE is formed on paper.

SCENE 2
Ruthie patches up Herry Monster's doll, when the group enters. She probes her barnyard doll collection, but none of the animals catch Kathleen's fancy. She instantly becomes attracted to a well-worn cowboy doll, whom she names "Pacos." Now that she understands "doll love," she wonders what other types of love there are.




Film
A montage of the evolution of mechanical technology, from wind-up toys, to robots that can spell "SESAME STREET" with blocks, to satellite transmitters.
(EKA: Episode 2226)

Film
Paper crumples to reveal G, g, and Gg.
(EKA: Episode 3128)

Muppets
Anything Muppets sing "Oh, G" in praise of the letter G.
(First: Episode 1167)

Cartoon
Art supplies draw a capital and lower case G.
(EKA: Episode 3094)




SCENE 3
The Count runs into the group and explains another type of love: "doing something love," which he demonstrates by counting. Kathleen doesn't seem to like doing much, except mooing. She realizes she loves to moo and sings "Can't Help Lovin' That Moo of Mine," as the Count counts her moos. She wants to know even more about love.

Film
What sound does a cow make?
(EKA: Episode 3403)

Cartoon
G For Giggle (voice of Allen Swift)
(EKA: Episode 0305)




SCENE 4
Telly brings Kathleen to meet some experts on loving other people - Maria and Luis. They have a hard time explaining why and describe the attributes they love each other. As they return to work, Kathleen realizes Telly matches a lot of what the couple has described and declares she loves him! She leaves briefly, claiming they'll get married when she returns.

Cartoon
Where does the cow live? (Maria voiceover)
(EKA: Episode 3427)




SCENE 5
Kathleen has returned, wearing a bridal veil. Telly tries to explain he's too young to get married and Kathleen feels she can't love anymore. Lexine points out another type of love she can have - love for her friends. She finds it works and becomes happy again. Ruthie announces the sponsors as a chapel organ version of the closing theme plays.

COMING SOON
Coming Soon on Sesame Street: Miles tickles Telly with a song.

Known missing segments

Picture
Segment
Description

Muppets
Kermit the Frog counts six happy little Twiddlebugs, and when he is finished, the Twiddlebugs have a party.
(First: Episode 0280)

Cartoon
Rap #6
(EKA: Episode 2580)

Cartoon
Esme's wooden clown breaks, and she is about to throw it away, when it suggests she use glue to fix it.
Artist: Lisa Crafts
(EKA: Episode 2916)
Ad blocker interference detected!
Wikia is a free-to-use site that makes money from advertising. We have a modified experience for viewers using ad blockers

Wikia is not accessible if you've made further modifications. Remove the custom ad blocker rule(s) and the page will load as expected.