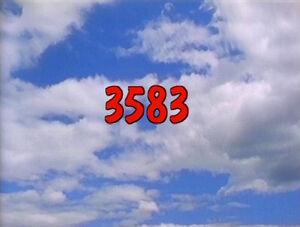 Picture
Segment
Description

SCENE 1
Zoe meets Mr. Handford's niece Barbara, who explains that "eating for two" means she's eating for herself and the baby growing inside her. Zoe gets to feel the baby kick in her stomach. Miles delivers an envelope to Mr. Handford and Zoe waits with the baby to find out what's inside.

Film
Katie is going to be a big sister.
(First: Episode 2769)

Animation
L / l (space paint)
(EKA: Episode 3216)

Muppets / Celebrity
Samuel Ramey performs "L Toreador."
(EKA: Episode 3337)

Cartoon
L for Laugh
Artists: Vincent Cafarelli & Candy Kugel
(First: Episode 2767)

Muppets
Bert sings "The Paperclip".
(EKA: Episode 2535)

Animation
A big paper clip and a small paper clip can hold papers together, and so can a small staple, with the help of its "mommy."
(First: Episode 2930)




SCENE 2
Mr. Handford opens the letter, which is an invitation to a party in the arbor for the anniversary of Miles' adoption. As Mr. Handford helps his niece to the bus stop, Zoe wonders why she didn't get an invitation. Miles arrives shortly after to give her one, but now she wonders what "adoption" is.

Cartoon
"Ooh What a Fabulous Party"
Artist: Sally Cruikshank
(First: Episode 3006)

Film
L is for look, legs, light, lemonade, and ladybug.
(First: Episode 3427)

Cartoon
L - shooting stars
(EKA: Episode 2313)

Film
The letter L dances at the beach.

Muppets
Baby Fats Domino sings "Shake Your Rattle and Roll," encouraging babies to exercise.
(EKA: Episode 3352)

Animation
Luxo Jr.: Heavy and light
(EKA: Episode 2876)

Film
Children on a playground form the letters of the alphabet. (new music added)
(First: Episode 1966)

Cartoon
"Big Kid Photo Album"
(EKA: Episode 3441)




SCENE 3
Zoe joins the Robinsons in their apartment to learn about adoption. Much to her surprise, Miles didn't grow inside Susan, but another woman who could not take care of him, and since they loved him as a baby, they adopted him. They show her a photo album of him and a tape of the day they brought him home.

Song
An ode to D-A-D.

Muppets
Muppet & Kid Moment: Samantha shows Grover how to play "Duck Duck Goose."

Film
What sound does a duck make?
(EKA: Episode 3298)

Animation
Counting to 15 (Oriental music)
(EKA: Episode 3157)

Cartoon
Rap #15
(EKA: Episode 2637)

Animation
Rubber Stamp #15
(EKA: Episode 2945)

Muppets
Tim Robbins and Elmo talk about surprise.
(First: Episode 2766)

Cartoon
A paranoid bird doesn't like to be surprised ... unless it's a surprise party.
Artist: John Korty
(EKA: Episode 2755)

Muppets
Baby Tooth and the Funky Funk: Caribbean dance
Part 1
(EKA: Episode 3136)

SCENE 4
Zoe is writing a poem as a gift to Miles and needs Big Bird's help making rhymes. She closes her poem by rhyming "perky" with "Albuquerque."

Cartoon
Sarah Wenkel reads a poem about a bug.
Artist: ArtistMike

Film
UN words (sun, run, fun)

Muppets
Sesame Street News Flash
Kermit interviews a bird who sings about how her parents still love her even though they don't live together anymore (though it is not directly stated whether her parents are divorced or separated).
(EKA: Episode 2763)

Film
A group of girls do a playground cheer ("One step forward, one step back").
(EKA: Episode 3031)

Song
"Front Back Ballet"
Artist: Jane Aaron
(First: Episode 3016)

Film
A girl named Shirley performs in the circus; her father is Ringling Bros. clown David Larible. Other acts in the circus include elephant training and elephant jumping.
(EKA: Episode 3529)

Muppets
Baby Tooth and the Funky Funk: Caribbean dance
Part 2
(EKA: Episode 3136)




SCENE 5
Everyone is in the arbor for Miles' party. Before Zoe can recite her poem, Gordon and Susan give a speech and sing a song about being a family. Zoe asks if it's time to eat cake, but Susan says they'll be doing presents first.

Song
John Pizzarelli sings about feeling "happy and proud" on your birthday.
(EKA: Episode 3421)

Animation
A walk through a neighborhood made of paper and photographic characters.

Celebrity
The Count counts the musicians in the Tokyo String Quartet.
(EKA: Episode 3266)

Animation
"Pineapple Addition"
Artist: Jane Aaron
(First: Episode 3159)

Film
Cheri goes fishing with her abuelo.
(EKA: Episode 2784)

Cartoon
Todo el mundo necesita agua
(EKA: Episode 0839)

Muppets
Baby Tooth and the Funky Funk: Caribbean dance
Part 2a
(EKA: Episode 3185)




SCENE 6
Zoe reads her poem, with corresponding pictures. As everyone digs into the cake, Prairie Dawn announces the sponsors.

COMING SOON
Coming soon on Sesame Street: Prairie Dawn's fairy godmother (Whoopi Goldberg) wants to get her ready for the ball.