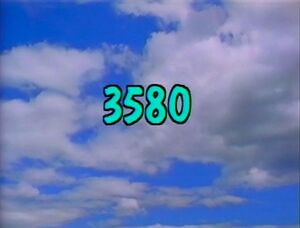 This episode guide has been compiled from incomplete video material.
Picture
Segment
Description

SCENE 1
Zoe is learning how to honk from a Honker. She can't seem to make any noise and knocks herself over when he hits her nose too hard.

Song
"It's a Long Hard Road, But I'm Gonna Get There." (Vocals by Jerry Nelson)
(EKA: Episode 3398)




SCENE 2
Zoe continues struggling to honk her nose, when Gordon arrives. He helps show that even though their noses are similar in some ways, the Honker's is different in other ways that allow him to honk. Zoe understands and rushes off, inspired. She returns with a pair of glasses and her trike horn attached, allowing her to honk with the Honker.

Muppets
Monster on the Spot: Play of the Day
Telly watches and comments as Melissa asks three other kids if she can play catch with them.

Muppets
Sesame Street Game Shows: The Count is a contestant on Beat the Time, where today's wacky stunt is to bring back two things that come from the sky before the time runs out. The Count has too much fun counting the seconds, but ends up bringing his thunder and lightning.
(EKA: Episode 1845)

Muppets
Zoe demonstrates same and different: first she displays a nameless blue monster who doesn't look like her, then she shows an exact replica of herself. The two Zoes only have one difference: their voices.




Celebrity
Nadja Salerno-Sonnenberg spots Big Bird and Miles looking sad, and interprets how they feel by playing the violin. When she finishes playing, she reveals that she has the baseball they lost.

Animation
The word AIRPORT (with photographs of such)
(EKA: Episode 3373)




Insert
Rosita hosts "Why Is Carlo Crying?" By asking questions, she learns that Carlo is crying because he's cutting onions at Hooper's Store.

SCENE 3
Zoe translates the Honker's honks, announcing the sponsors.

COMING SOON
Coming Soon on Sesame Street: A king colors his castle and subjects blue, his favorite color.

Known missing segments

Picture
Segment
Description

Muppets
Grover wants to sell Kermit a nose warmer, but since Kermit doesn't have a nose, Grover gives him one.
(EKA: Episode 1448)
Ad blocker interference detected!
Wikia is a free-to-use site that makes money from advertising. We have a modified experience for viewers using ad blockers

Wikia is not accessible if you've made further modifications. Remove the custom ad blocker rule(s) and the page will load as expected.