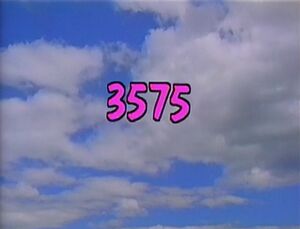 This episode guide has been compiled from incomplete video material.
Picture
Segment
Description

SCENE 1
Elmo and Zoe watch as Luis and Maria waltz together as they head off to a wedding. The monsters want to dance too, but Elmo thinks they can do it just based on what they just watched. Elmo is proven wrong and Celina invites them up to her studio to learn.

Cartoon
A lizard, a girl and a dog dance.
Artist: Karen Aqua
(EKA: Episode 2795)

SCENE 2
Celina teaches the young monsters that the waltz follows a counting rhythm of "one-two-three." She plays a waltz tape and demonstrates. The monsters get caught up in the counting that they keep counting instead of dancing.

SCENE 3
Celina adds that cooperation is needed to perform the waltz. The monsters think they have the dance down pat, but Elmo wishes they had outfits just like Maria and Luis had on.

SCENE 4
Zoe and Elmo go to Finders Keepers and ask for outfits just like Maria and Luis'. Ruthie gets some Fix-It-Shop-appropriate work outfits, when the monsters describe the nice outfits they were previously wearing. Ruthie just happens to have them in their size.




SCENE 5
Maria, Luis and several others gather at the dance studio, where the monsters show off their waltz. Maria comments Zoe's dress is prettier than hers. Everyone dances to a waltz arrangement of the theme as Benny Rabbit announces the sponsors.

COMING SOON
Coming Soon on Sesame Street: Tarah and friend do a wheelchair ballet.

Known missing segments

Picture
Segment
Description

Muppets
The Oinker Sisters sing "Where Can You Be B?"
(EKA: Episode 3381)

Cartoon
"Three Waltzing Chickens"
Artist: Bruce Cayard
(EKA: Episode 1292)

Film
What sound does a baby chick make?
(EKA: Episode 3451)

Muppets
Sesame Street News Flash
Old MacDonald opens a health resort for his animals.
(EKA: Episode 2898)

Insert
Big Bird and Snuffy notice how different they are and sing "Feathers and Fur."
(EKA: Episode 3050)
Ad blocker interference detected!
Wikia is a free-to-use site that makes money from advertising. We have a modified experience for viewers using ad blockers

Wikia is not accessible if you've made further modifications. Remove the custom ad blocker rule(s) and the page will load as expected.