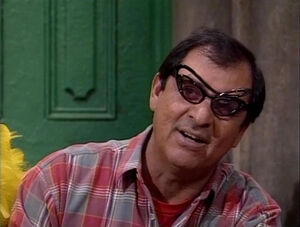 This episode guide has been compiled from incomplete video material.
Picture
Segment
Description




SCENE 1
Luis can't seem to find his reading glasses, when Snuffy enters the Fix-It Shop. Luis is supposed to be his designated reader today, but he can't without his glasses. Fortunately, Snuffy's book has large enough print for Luis to read.

SCENE 2
Rosita now wants Luis to read to her, but he tells her there's no way he can. Rosita thinks she can teach him to read with a song ("The AT Family Song"). She leaves the book with him to practice some more.

SCENE 3
Luis resorts to calling Dr. Fleegleman's Eyeglass World for a new pair, but can't make out the number in his contact book. He finds Big Bird and asks him to read it, though Big Bird isn't sure what an F looks like. Luis points him toward some films:

SCENE 3 cont'd
Big Bird now recognizes an F, but needs a reminder of the letter L. Luis shows another set of films.

SCENE 3 cont'd
Big Bird asks for one more review of the letters...

SCENE 3 cont'd
Big Bird correctly identifies Dr. Fleegleman's listing in the book. Luis returns to the shop to make the call, then realizes he can't make out the number! "This is what you'd call a bad day."

SCENE 4
Lexine dials the number for Luis, who orders a new pair (which will be on their way shortly). While they wait, they flip through a book about a Native American pow-wow. Big Bird recalls his experience with the Crow Indians.

SCENE 4 cont'd
An Anything Muppet delivery boy stops by and gives Luis his new pair of glasses, only they're not at all what he ordered. Big Bird and Lexine go off looking for where his original pair might be.

SCENE 5
Big Bird, Snuffy, Rosita and Lexine find Gabi playing with Luis' glasses on her teddy bear. They inform her of his troubles and they go to return them.




SCENE 6
They kids all return to the Fix-It Shop and Gabi admits to what she's done. Though Luis is slightly annoyed, he's glad they're back. Everyone is glad too, because now he can read to them all! Luis starts reading a book as Oscar announces the sponsors.

Known missing segments

Picture
Segment
Description

Muppets
Elmo sings "In Your Imagination."
(EKA: Episode 3119)

Cartoon
Gloria, a rambunctious little girl, sings the alphabet song while an adult gives her instructions.
(First: Episode 0010)

Muppets
Two brothers, First and Last, sing about how their names affect how they do things.
(First: Episode 0146)

Cartoon
Rumba pencils (first, last, Crazy Melvin)
(EKA: Episode 0666)

Cartoon
F is for Fly and Frog
(First: Episode 0034)

Cartoon
Song: "If You've Lost Your L, Look Around"
Artist: Bruce Cayard
(EKA: Episode 1845)

Cartoon
I've Got a Mind: Wind-up toy
(EKA: Episode 0560)
Ad blocker interference detected!
Wikia is a free-to-use site that makes money from advertising. We have a modified experience for viewers using ad blockers

Wikia is not accessible if you've made further modifications. Remove the custom ad blocker rule(s) and the page will load as expected.