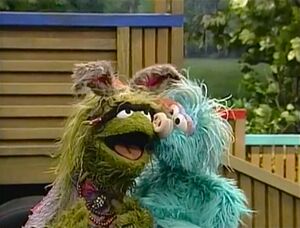 Rosita convinces Grundgetta to play with her and they agree to play "The Three Little Pigs," where Grundgetta portrays the "Big Grouchy Wolf." She gets caught up in the game and ends up hugging and kissing Grundgetta, which upsets her. After talking with Gordon, Rosita learns to cooperate with Grundgetta.
Ad blocker interference detected!
Wikia is a free-to-use site that makes money from advertising. We have a modified experience for viewers using ad blockers

Wikia is not accessible if you've made further modifications. Remove the custom ad blocker rule(s) and the page will load as expected.