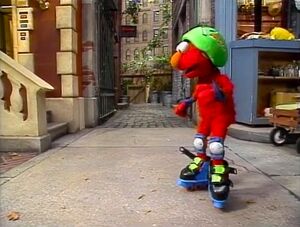 This episode guide has been compiled from incomplete video material.
Picture
Segment
Description




SCENE 1
Elmo and Ruthie watch as Celina and the kids rollerblade around the block. Elmo wishes he could join, but he doesn't have a pair of rollerblades. Ruthie tells him if he counts backwards from 10 to 0, she'll give him a surprise. Celina and the others assist him in counting and when he reaches 0, Ruthie presents him with his own rollerblading gear!




SCENE 2
Elmo wants to rollerblade now, but first, everyone makes sure he's fully protected in case he falls down. They then bring him down to the sidewalk to start skating, but he can't seem to stand up in his skates.

SCENE 3
Celina and Ruthie assure Elmo that he'll be able to skate without falling if he just practices.

SCENE 4
Elmo attempts to skate all the way from Finders Keepers to the wall outside Big Bird's nest. As he skates down the sidewalk, he falls down 10 times (a count kept by his friends watching in horror from the opposite end of the street). Elmo concludes he may need some more practice.

SCENE 5
Now having practiced, Elmo tries skating down the street once more. As a voice (Kevin Clash) announces the sponsors, Elmo successfully makes it down the sidewalk without falling.

Known missing segments

Picture
Segment
Description

Cartoon
Three scribbles exercise.
Artist Fred Garbers
(EKA: Episode 2482)

Insert
Bob leads his violin class and sings "Practice, Practice."

Cartoon
11 gumballs minus 4 equals 7.
(EKA: Episode 2365)
Ad blocker interference detected!
Wikia is a free-to-use site that makes money from advertising. We have a modified experience for viewers using ad blockers

Wikia is not accessible if you've made further modifications. Remove the custom ad blocker rule(s) and the page will load as expected.