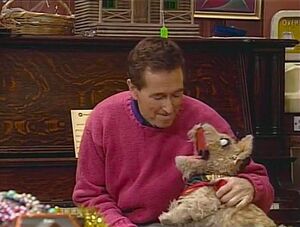 Picture
Segment
Description




SCENE 1
Big Bird welcomes the viewer to Sesame Street, and spots a cute little Scottish terrier by the Furry Arms Hotel. He goes over to investigate, but the terrier resents being treated like a little puppy. After all, she's Renata Scottie, the world-renowned dog opera singer. She sings operas, which are stories set to opera music. She's sung works by canine greats such as Poochini, Wag-ner, and Johan Sebastian Bark. She's come to Sesame Street to look for a piano player; her singing would sound better if she had one. She wants one who knows all kinds of music, and likes dogs. Big Bird wonders, "Who do I know like that?"




SCENE 2
Big Bird leads Renata to Finders Keepers, where they encounter Bob playing the piano, while he and Ruthie sing "C is for Cookie." They instantly recognize the famous dog singer, and Big Bird recommends Bob as a potential piano player. Renata puts him to the test by having him play the music to a selection from "Madame Butter-flea" while she sings an aria about needing to be scratched.

SCENE 2
cont'd
After the song, Renata makes sure Bob is a good scratcher. But, is he good with sticks? Stay tuned ...




SCENE 3
Bob's next test involves playing a selection from "The Barker of Seville," which is about a dog who loves to chase sticks and fetch them. Of course, stick-throwing is also part of the test, which Bob passes with flying colors.

SCENE 3
cont'd
Renata loves Bob's work so much, she gives him the job. He'll be touring with Renata around the world - which means "goodbye Sesame Street." Everyone is excited about this, but Big Bird doesn't like the "goodbye" part.




SCENE 4
Bob starts to pack for his big trip. Renata reassures Big Bird that Bob won't be gone from Sesame Street forever - he'll just be touring with her, visiting exotic places. Everyone on Sesame Street will still be able to keep in touch with him by mail and phone, and when he gets back, he'll have exciting stories to tell. Once Big Bird knows this, he feels better about Bob's leaving. He asks Bob if he can help him pack, which confuses Bob.




SCENE 5
Big Bird, Ruthie, Maria and Gordon bid Bob farewell. He feels reluctant to leave his home at first, but everyone encourages him to take this big chance. However, once he walks off with his suitcases, he realizes he'd miss all his friends on Sesame Street, and decides to stay. He tells Renata that he will get her in touch with a certain dog piano player he knows.

SCENE 5
cont'd
Big Bird announces the sponsors, and everyone says goodbye to Renata.