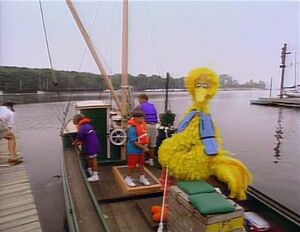 Picture
Segment
Description




SCENE 1
Big Bird and Telly wonder why Wolfgang the Seal won't stop barking. Mr. Handford remembers that yesterday he put up a sign in the Hooper's Store window that says "Special today: FISH" ... but that was yesterday's special, which means Hooper's is out of fish. Since fish are Wolfgang's favorite thing in the world, Big Bird wonders how to get him one. Luckily, Big Bird's friends Colin and Marlee are about to go fishing right now, so they let him come along with them. Big Bird leaves, promising to bring a fish back to Wolfgang.

SCENE 2
Wolfgang waits impatiently for Big Bird to come back from his fishing trip ...

SCENE 2
cont'd
Meanwhile, the boat takes off on the lake.

SCENE 2
cont'd
Mr. Handford tells Wolfgang to be patient, and persuades him to try a new food. Today's special is chicken, so he serves different chicken dishes, which the seal gobbles up right then and there. Telly is amazed at the way he eats the chicken, but accidentally says the word "fish," which makes Wolfgang hungry for fish.

SCENE 2
cont'd
Meanwhile, on the fishing trip, the boat arrives at the spot where Big Bird will hopefully catch a fish.

SCENE 3
Wolfgang continues to bark, driving Telly and Mr. Handford up the wall. Telly suggests that they all say the alphabet ("I know it's a crazy idea, but so was striped toothpaste!"), which briefly distracts Wolfgang from his thoughts of fish, until Telly says the word again.

SCENE 3
cont'd
Meanwhile, Colin and Marlee catch one fish after another, but Big Bird still hasn't caught any yet.

SCENE 4
Wolfgang drives Telly and Mr. Handford out of Hooper's with his barking. Telly gets another idea: this time, he'll get Wolfgang ready to eat the fish by doing exercises with him. Mr. Handford leads Wolfgang, Telly and some kids in some jumping jacks, until Telly faints.

SCENE 4
cont'd
Meanwhile, Big Bird thinks he has succeeded in catching a fish, but it turns out to be a boot.




SCENE 5
Big Bird finally returns with a very small fish in a small bag. Wolfgang wolfs it down immediately, and feels better. Telly and Mr. Handford announce the sponsors, and Big Bird talks some more about his great fishing trip.
Notes