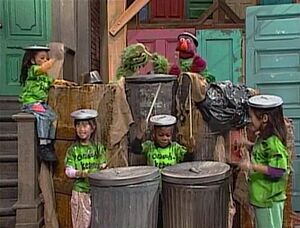 This episode guide has been compiled from incomplete video material.
| Picture | Segment | Description |
| --- | --- | --- |
| | COLD OPEN | Telly has difficulty introducing today's sponsors over a loud, banging noise. He and Oscar go to investigate. |
| | SCENE 1 | In the arbor, the Japanese drumming group Soh Daiko performs a routine for a gaggle of street residents. |
| | SCENE 1 cont'd | Following the performance, Celina introduces the group to Telly and Oscar and tells them the group is giving a lesson today on the taiko drums. They're both eager to learn, especially Oscar, who wants to create a loud ruckus. |
| | SCENE 2 | Everyone is in traditional wardrobe and has their own taiko drum, ready to play. First, one of the Soh Daiko members gives a talk on the origins of the drums and how they work. Then, he instructs them on how to play. Telly takes a while to bang the drum hard enough, but Oscar proves to be a natural. |
| | SCENE 3 | Everyone continues playing, though Oscar wishes it could sound as noisy as before. One member tells him they'll all need to play together and cooperate to accomplish that, an idea that is against Oscar's entire belief system as a Grouch. He's told a special Japanese term he can use as an excuse for playing along with everyone. |
| | SCENE 4 | Everyone puts on a grand performance. Oscar is disappointed Soh Daiko now has to leave, wondering how he'll learn to play the drums and create such a noise in their absence. He gets a great idea and tells the drummers to "beat it." |
| | SCENE 5 | Oscar organizes Telly and the Grouchketeers to bang on trash cans and pots like drums. Savion complains about the noise, which Oscar notes is them only practicing; it could take years before it sounds any better (to Oscar's joy). They continue drumming, while Savion tries announcing the sponsors over the noise. |
Ad blocker interference detected!
Wikia is a free-to-use site that makes money from advertising. We have a modified experience for viewers using ad blockers

Wikia is not accessible if you've made further modifications. Remove the custom ad blocker rule(s) and the page will load as expected.