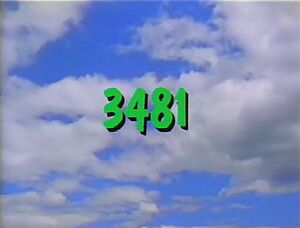 Picture
Segment
Description

COLD OPEN
Kingston Livingston III displays today's sponsors and teases two stories he'll be telling about himself.




SCENE 1
Kingston tells a story of a party, where all his friends were surprised at the different way Kingston danced.

Cartoon
A real Indian boy tells two boys who are playing Cowboy and Indian that Indians don't say "ugh". The other kids tell him that they heard the expression on TV.
(EKA: Episode 0812)

Muppets
Grover sings "Monster in the Mirror."
(EKA: Episode 2681)

Animation
Portraits of kids display the alphabet.
Artist: Lisa Crafts
(EKA: Episode 3203)

Cartoon
A magician writes in his diary about the many mishaps during his performance.
(EKA: Episode 2449)

Film
How to say "bunny rabbit" in sign language.
(EKA: Episode 3300)

Cartoon
The Carrot (censored version)
Artist: Bruce Cayard
(EKA: Episode 1211)

Muppets
"It is I, Captain Vegetable!"
(EKA: Episode 2538)

Cartoon
A girl writes a poem about the number of fleas on her dog, which add up.

Film
Farmer McFay counts six fruits.
(EKA: Episode 3216)

SCENE 2
Baby Bear sets up a lemonade stand, selling each glass for a penny. Goldilocks buys each glass one at a time. It is then revealed she's made her own lemonade stand, charging two pennies per drink. "That's the lemonade business!"

Cartoon
"Felines"
(EKA: Episode 3314)

Film
Some Navajo kids narrate a film about how their blankets are weaved, and how they make paper blankets in school.
(EKA: Episode 2990)

Muppets
Cerrado with Maria and an Anything Muppet (part 1). He sings a song about how everything is Cerrado, and at the end Maria gives him an Abierto sign, which opens everything in the house.
(First: Episode 3015)
Only Part 1 is shown

Film
Abierto and cerrado
(EKA: Episode 3271)

Cartoon
African quilt pattern
(EKA: Episode 3145)

Film
B's are found on a city street.
(EKA: Episode 3351)

Animation
B for brush, bend, bounce, break, blue, and boat.
(EKA: Episode 3061)

SCENE 3
Elmo needs Gordon's help stacking some blocks for a game. Gordon re-arranges the tower so that the blue and yellow blocks are on either the top or bottom. Elmo then begins his "knock-over-the-blocks" game.

Film
A group of people form a human pyramid to illustrate top and bottom.
(First: Episode 3144)

Muppets
Happening upon the ice cream man, Ernie wants to buy a chocolate - strawberry - peach - vanilla - banana - pistachio - peppermint - lemon - orange - butterscotch ice cream cone, but the ice cream vendor instead gives him a butterscotch - orange - lemon - peppermint - pistachio - banana - vanilla - peach - strawberry - chocolate ice cream cone.
(EKA: Episode 0193)

Cartoon
The Ringmaster displays six marvelous monkeys who do stunts. (new music & sound effects added)
Artist: Jeff Hale
(EKA: Episode 2396)

Muppets
Kermit the Frog counts six happy little Twiddlebugs, and when he is finished, the Twiddlebugs have a party.
(First: Episode 0280)

Animation
"Six Circus Balls"
Artist: Jane Aaron
(EKA: Episode 3001)

Film
Caitlin gets her eyes examined, and picks out a pair of glasses.
(First: Episode 2948)

Cartoon
What if we celebrate Valentine's Day with chickens instead of hearts?
(EKA: Episode 0543)

Muppets / Celebrity
Big Bird expects Zap Mama to show him a merry-go-round, so they make one with their voices.
(EKA: Episode 3292)

Cartoon
L for Laugh (new music added)
Artists: Vincent Cafarelli & Candy Kugel
(First: Episode 2767)

Cartoon
The Typewriter: L for lion
Artist: Jeff Hale
(EKA: Episode 1201)

Cartoon
A salesman (voice of Martin P. Robinson) hawks the letter L in a commercial.
Artist: Mo Willems
(EKA: Episode 3306)

Film
A girl narrates a segment about her friend, Billy, who swims with dolphins.
(EKA: Episode 3012)

Cartoon
Norris Walnut recites a poem about clouds.
Artist: ArtistMike
(EKA: Episode 3429)

Muppets
Zoe sings "My Name Is Zoe."
(EKA: Episode 3387)

Cartoon
Ladies, birds, and fish march forward and backward.
Artist: Karen Aqua
(EKA: Episode 3083)




SCENE 4
Kingston's next story involves his trip to the park. He runs into his friends, who are all wearing their caps backwards, while his is frontward. He calls it the "Kingston Livingston III way of wearing my cap," which everyone is okay with. After the story, Kingston feels so good, he breaks out into James Brown's "I Feel Good."

Film
B for ball, bat, base and baseball.
(EKA: Episode 3266)
Cartoon
Small letter b (ball/bat) (new sound effects added)
(EKA: Episode 1538)

Song
"B is for Bubble" (remake)
(First: Episode 3266)

Muppets
Grover recites a poem about a bubble.
(EKA: Episode 3155)

Film
Katie is going to be a big sister.
(First: Episode 2769)

Animation
10 masked dancers are counted.
Artist: Karen Aqua
(EKA: Episode 3079)

Animation
Computer: tall / short
(EKA: Episode 3110)




SCENE 5
Loretta and the rest of Kingston's friends arrive, wearing their caps like him and wanting to learn his dance. Kingston agrees to teach them, after he's done with his book. They join in reading a portion, which includes the sponsors.

COMING SOON
Coming soon on Sesame Street: Oscar the Grouch and Grundgetta sing about some of "their Grouchiest things."