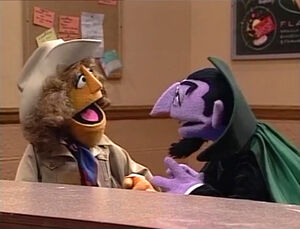 This episode guide has been compiled from incomplete video material.
| Picture | Segment | Description |
| --- | --- | --- |
| | SCENE 1 | An exhausted letter carrier delivers six bags of mail from Australia to The Count at Hooper's Store. He explains to Mr. Handford that they all come from one of his oldest and dearest friends, Matilda. Each piece of mail tells him she'll be visiting today and to meet her at the bus stop at 10 o'clock. |
| | SCENE 2 | Big Bird wonders why the Count is waiting at the bus stop and he's filled in. The Count counts the passing buses, until one stops and an elderly woman steps off. She's not Matilda, but has a message from her - she'll call the Hooper's Store phone at 11. |
| | SCENE 3 | The Count waits at the phone, when a construction worker needs to use it. She agrees to wait, until he starts counting the rings instead of answering. Mr. Handford angrily hands him the phone and Matilda responds, telling him she will be there soon. The Count uses Mr. Handford's watch to count the seconds. |
| | SCENE 4 | Matilda finally arrives at Hooper's and the two friends share a "Hello," before saying goodbye immediately after. The Count explains to a confused Big Bird and Mr. Handford that he and Matilda were the best of friends, but as kids she and her family moved to Melbourne. Since then, they've gotten back together 103 times, counting each "hello" as a precious moment. They know that the sooner they say "goodbye," the sooner they can say "hello" again. They begin counting the different ways to say goodbye. |
| | SCENE 5 | The Count finishes writing a letter for the letter carrier to bring to Matilda. She's relieved it's only a single letter, but faints when the Count shows her six more bags. The Count begins listing things he can count while he waits for the mail to reach Matilda, and Matilda announces the sponsors (in voice-over). |
Ad blocker interference detected!
Wikia is a free-to-use site that makes money from advertising. We have a modified experience for viewers using ad blockers

Wikia is not accessible if you've made further modifications. Remove the custom ad blocker rule(s) and the page will load as expected.