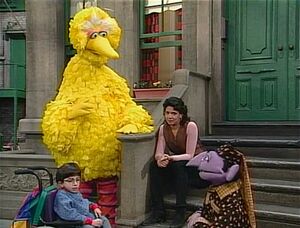 Picture
Segment
Description




SCENE 1

Big Bird, Tarah and Maria are are watching Natasha talk in her sleep. They speculate about what she might be dreaming about...maybe Oscar the Grouch's elephant, Fluffy. Natasha wakes up, but now Barkley is asleep. He is dreaming too, and they wonder what dogs dream about.

Film

Fay Ray dresses up as a "green elephant," a moose, and "Kermit the dog."br />(EKA: Episode 3007)

Animation

A boy has a dream in which he floats in Outer Space between things.
(EKA: Episode 3093)

Film

Cats

Cartoon

Mi kat iz ... gone
(EKA: Episode 2059)

Celebrity

Ruthie takes an opera lesson from Marilyn Horne, as they sing "Sing After Me"
(First: Episode 3198)

Animation

A girl reads a book, a magazine, a newspaper, and a letter.
(First: Episode 3142)

Cartoon

A boy narrates a poem about how he met Eleanor, the monster under his bed.
Artist: ArtistMike
(EKA: Episode 2773)




SCENE 2

Maria, Big Bird, and Tarah speculate about Barkley's dream. Barkley's dream sequence is shown. Barkley wakes up and they ask him what he was dreaming about—he indicates that he was dreaming about a frisbee.
Barkley's frisbee dream is a recurring one--he also dreamed it in Episode 2969.

Animation

The word DOG is spelled out over a weiner dog.

Film

Kids narrate footage of toddlers learning to walk.
(EKA: Episode 3090)

Muppets

Muppet & Kid Moments: Cookie Monster asks Lexine to express happy and sad faces.
(EKA: Episode 3271)

Cartoon

The story of Tommy LaPlaid, the painter so sad until he discovered the joys of kicking his paints on the canvas.
Artist: Mo Willems
(EKA: Episode 3208)




Cast

A remake of "Can Read" with Mr. Handford reading a recipe, Rosita reading a letter from her abuela, and Ruthie reading a box label.
(EKA: Episode 3337)

Animation

W for water, wind, wave and wet.
(EKA: Episode 3198)

Cast

Gordon and the word "wand."
(EKA: Episode 2490)

Film

The floating kids form the letter w.
(EKA: Episode 3454)

SCENE 3

Humphrey and Ingrid come to pick up Natasha, and they ask if she has eaten. Maria tells them that Natasha had three bottles of milk, and the proud parents gush over her milk-drinking talents. Humphrey says he even had a dream about it, and Tarah and Big Bird ask to hear it. Humphrey dreamt that he and Ingrid had a giant bottle of milk but no baby to drink it. It would go sour if nobody drank it, but just then, Superbaby arrived and drank the whole thing.

Cartoon

A brief animation of pouring milk in a glass, coupled with the word milk.
(EKA: Episode 3012)

Muppets

The Two-Headed Monster finishes drinking milk, and doesn't know what to do with the cartons at first, but gets the idea to "recycle" them and play with them like a train.
(EKA: Episode 3080)

Song

"Write Your Name"
(EKA: Episode 3274)

Cartoon

W for Willamina
(EKA: Episode 0950)

Song

Ornate Ws spin around in accompaniment to a song.
(EKA: Episode 2992)

Film

Jaws spoof with the letter W.
(EKA: Episode 3417)

Muppets

"I'm a Bookworm, Baby!"
(EKA: Episode 3035)

Film / Animation

A class makes up a story about going to the zoo, which is told through animation based on the kids' drawings.
(EKA: Episode 3373)




SCENE 4

Count von Count comes running by in his pajamas. Even though he is in a hurry, he takes time to tell Big Bird and Tarah about the dream he had last night. He fell asleep counting sheep. Then he dreamt that he was a sheep and he was counting counts. His dream shows him counting twenty counts. He says he counted a thousand of himself before he woke up. He is jogging in his pajamas so he will get tired, fall asleep, and dream he's a sheep counting Counts again.

Cartoon

A girl thinks she hears a monster doing a cha-cha outside her window, but it's only the wind and the crickets. Her snores frighten the real monster.
Artist: Deanna Morse
(EKA: Episode 2951)

Song

"Dressed Up" (remake)
(EKA: Episode 3399)

Cartoon

4 babies crying, drinking, playing, sleeping

Film

Ornate 4s fly through the air.
(EKA: Episode 3317)

Film

Four kids dance in a colorblock grid.
(EKA: Episode 3149)

Muppets

Ernie is tossing and turning in bed. He sings to the viewers how he feels "When Bert's Not Here."
(EKA: Episode 2208)

Cartoon

"From Your Head"
Artist: Sally Cruikshank

SCENE 5

Big Bird and Tarah count the dreams they heard about that day. Satisfied that there won't be any more dreams that day, they go off to play. Meanwhile, Slimey the Worm is in bed dreaming that "the famous subterranean magician Slimini the Great" is announing the sponsors.
Notes