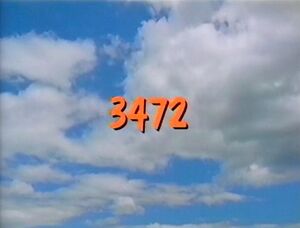 This episode guide has been compiled from incomplete video material.
Picture
Segment
Description

SCENE 1
Big Bird and Carlo bring Stinky the Stinkweed to the park to visit his old spot, when they find another plant occupying his soil. She introduces herself as Fern, who claims it's her spot now. The situation makes Stinky sad, but he lightens up when he learns how compassionate she is. He now becomes mad over losing his home and the two start arguing.

Cartoon
A boy acts out his feelings as animals. ("There's a zoo in me!")
(EKA: Episode 0796)

Film
Farmer McFay counts 40 fruits from the season's bumper crop.
(EKA: Episode 3258)

Muppets / Celebrity
Count von Count and his team of coaches count how many times David Robinson can dribble the basketball.

Film
A girl draws a picture of her friend, Dai Xi.
(EKA: Episode 2856)

Film
Some kids talk about a garden they have in the middle of the city.
(EKA: Episode 2899)

SCENE 2
Big Bird and Carlo suggest the two plants share the spot and cooperate. They find they both enjoy watching the birds and watch Big Bird recite the alphabet.

SCENE 2 cont'd
The kids show up with some water, which Stinky assumes is for him. Fern asserts the kids water her every day, so the water is for her. Another argument begins.

Film
A karate team punches out the alphabet.
(EKA: Episode 3447)

SCENE 3
Big Bird suggests that since both plants have shared the same space and bird watching experience, they should be able to share the water. The plants agree and enjoy a nice drink, then decide to share the sunlight.

Cartoon
Two hippie kids wonder how to make their droopy plant grow.
Artist: Elwood Smith
(EKA: Episode 1858)

SCENE 4
It's time for Stinky to go back home, but both plants can bear to say goodbye. Big Bird suggests Fern come visit Stinky at the Furry Arms and Carlo tells them to wait until he returns.




SCENE 5
Carlo has returned with flower pot to plant Fern into. He brings her and Stinky over to the Furry Arms as Big Bird announces the sponsors.

COMING SOON
Coming soon on Sesame Street: Ray Charles plays "Believe in Yourself" with the cast.
Ad blocker interference detected!
Wikia is a free-to-use site that makes money from advertising. We have a modified experience for viewers using ad blockers

Wikia is not accessible if you've made further modifications. Remove the custom ad blocker rule(s) and the page will load as expected.