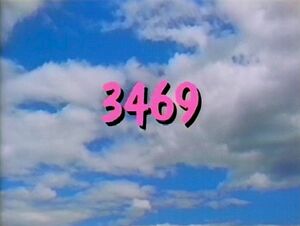 This episode guide has been compiled from incomplete video material.
Picture
Segment
Description




SCENE 1
Big Bird welcomes the viewer from his nest area, where the Birdketeers are coloring. He's going to play teacher today and stops Gordon on his way to work (professionally referring to him as "Mr. Robinson"). Big Bird claims that since Gordon has a mustache, all teachers do and dons one himself (but is dissuaded from shaving his head like Gordon's). Gordon explains the job of a teacher, when Ms. Rodriquez, the teacher's assistant, arrives (also with a mustache). Gordon heads off to work, when Big Bird wonders what he will teach.

SCENE 2
Mr. Bird starts the school day with a lesson on the alphabet. He begins with the letter A, when the class suddenly continues reciting the rest of the alphabet (having learned it from other sources, including Big Bird himself). He wonders what he can teach them that they don't already know...

Cartoon
Letters gather in order, against the birds-eye view of a city.
(EKA: Episode 3314)

Song
"We Got the Power!" - a hip-hop song about computers
(EKA: Episode 3058)

SCENE 3
Mr. Bird now prepares a lesson on counting to 40, which the class also already can do too.

Cartoon
40 lemmings (doo-wop)
(EKA: Episode 2946)

SCENE 4
Gabi inspires Big Bird to shift gears and try to teach them something he can do, but they cannot. He shows them how he can put his head between his legs, which finds they also do with ease. He sighs, "Of all the Birdketeers in all the playgrounds in all the cites of the world, I have to get four geniuses."

SCENE 5
Gabi tells Big Bird to gauge what the students know so he can find something they don't. He discovers they can't speak bird and demonstrates the native tongue of several of his bird friends. However, the noises are too hard for them to replicate, so he teaches them a simpler language - turkey.

SCENE 5 cont'd
Their gobbling attracts a real turkey, who is impressed with their accent-less skills. "They're teaching as a second language? Great! Maybe we can talk them out of that Thanksgiving thing," the turkey hopes.

SCENE 6
Mr. Bird lets the kids go play and tells Gordon about his school day. He calls the kids back to show him what they've learned, as the turkey announces the sponsors.

COMING SOON
Coming soon on Sesame Street: The Readers of the Open Range help a girl open a door.

Known missing segments

Picture
Segment
Description

Muppets
Super Grover teaches a class for potential superheroes. Among his students are Telly, Elmo, Zoe, Rosita, Herry, and Merry.
(EKA: Episode 3225)
Ad blocker interference detected!
Wikia is a free-to-use site that makes money from advertising. We have a modified experience for viewers using ad blockers

Wikia is not accessible if you've made further modifications. Remove the custom ad blocker rule(s) and the page will load as expected.