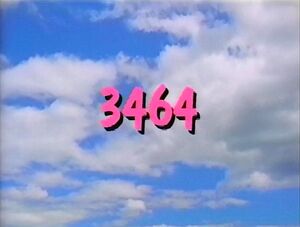 Picture
Segment
Description

SCENE 1
Rosita and Telly argue over who will sit next to Celina as they read. She points out that there's spaces on both sides of the bench, allowing them both to sit next to her.

Cartoon
"Next To Song"
Artist: Jane Aaron
(First: Episode 2851)

SCENE 2
Rosita laughs as she reads her book of Little Jack Horner, but Telly's book (Jack and Jill) has him sobbing. To cheer him up, Rosita gives him her book, which perks him up.

Cartoon
"In My Book" (sung by Jerry Nelson)
(First: Episode 2983)




SCENE 3
Big Bird invites Celina to sit in on today's meeting of the Future First Graders of America (Sesame Street Chapter). He poses a question to the crowd: how do first graders get from their homes to school? Rosita and the kids come up with plausible answers, but Big Bird reveals the one in mind: a school bus. Snuffy joins them, pretending to be a school bus.

Song
"There's a Lot of Different Ways to Get to School" (sung by Jerry Nelson)
(First: Episode 2751)

SCENE 4
Celina asks Big Bird what her role in the meeting is and sits to the side reading as Big Bird continues. He introduces a special guest - an actual school principal! Instead, they're greeted by Prince Hal, who believes the role of principal is similar to his own. To clear up any more confusion, Big Bird allows him to join their meeting, then tells Celina her role is coming soon.

Cartoon
A little boy asks his big brother questions about what happens at school.
Artist: John Korty
(EKA: Episode 2159)

SCENE 5
Prince Hal asks Big Bird about the music that has suddenly started, meaning the meeting is over. Big Bird announces the sponsors, then finally reveals Celina's role - playing the bell that dismisses everyone.

COMING SOON
Coming Soon on Sesame Street: Snuffy dances with Gabi and the kids at a tap lesson.