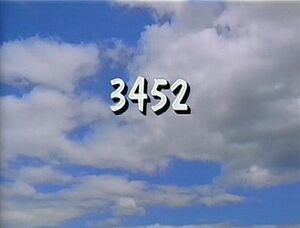 Picture
Segment
Description

SCENE 1
Big Bird and Celina greet the viewer, when Snuffy comes over in hysterics. He tries to explain what Alice did that was so funny, but can barely speak through his laughter. He brings them to the park to find her.

Animation
On a computer, a boy draws a sun setting between the mountains.
(EKA: Episode 3059)

SCENE 2
Snuffy begins to explain that Alice got into their mother's closet, but starts laughing so much he can't continue. Alice appears in their mother's clothing, setting Snuffy off once more.

Song
"Dressed Up" (remake)
(EKA: Episode 3399)

Film
At the harbor, kids learn about dolphins, and how to communicate with them using signals.
(EKA: Episode 3010)

SCENE 3
Celina and Big Bird find Snuffy now laughing by a large letter O, which he claims Alice will do something great with. The others try to guess what it will be and Alice crawls through the middle of the letter.

Cartoon
Soul O
(EKA: Episode 3375)

Animation
Arnold uses his imagination.
Artist: Craig Bartlett
(EKA: Episode 2754)

SCENE 4
Now, Alice dresses up in winter gear and pretends that it's winter. Celina advises her to play something else, as all the clothing could make her uncomfortable in the heat. Alice starts pretending it's summer instead, still wearing her outfit.

Song
"Hot in the City"
(EKA: Episode 2751)

SCENE 5
Big Bird introduces Carlo, who sings the question of the day - what can you do with a fruit?

Cartoon
Apple: a riddle
(First: Episode 2889)

SCENE 6
Alice has another trick to show off as everyone announces the sponsors - she walks through the O wearing a 15 banner.

COMING SOON
Coming Soon on Sesame Street: The gang at day care sings about their names.