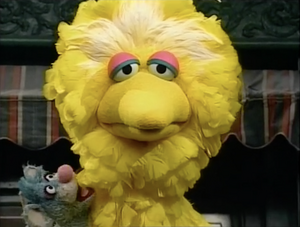 Picture
Segment
Description




SCENE 1
Big Bird and Gabi introduce today's special visitor - the mouse from "Hickory Dickory Dock," complete with clock. He performs his nursery rhyme, but when the clock strikes one, it breaks. Gabi calls over Luis to fix it, but he isn't sure it's within his knowledge. He leaves them briefly to see if the library has a book about fixing nursery rhyme clocks.

Song
"In the Library"

Cartoon
All living things need clean water.
(EKA: Episode 2772)

SCENE 2
The mouse is depressed; with the clock broken, he's out of a job and home. He realizes that Big Bird is tall, much like his clock, and tests out a new nursery rhyme: "Hickory Dickory Dird," where he climbs Big Bird. He finds the new situation very nice and claims it's the beginning of a beautiful friendship.

SCENE 2 cont'd
Luis returns, having serendipitously found a book exactly about fixing the mouse's clock. The mouse is in now rush and performs his new rhyme again, to Big Bird's chagrin.




SCENE 3
Luis looks for more parts to repair the clock, while the mouse enjoys his new partnership, especially because Big Bird can "strike one" at any point. Big Bird requests they find something else to do, as he's getting tired of the nursery rhyme. Gabi invents a new version of it, now about the letter W ("It adds a whole new dimension," the mouse notes).

Animation
W for water, wind, wave and wet
(EKA: Episode 3198)

SCENE 4
Luis has finished the mouse's clock, but the mouse wants to stay with Big Bird forever, describing the things he loves about climbing him. This doesn't sit well with Big Bird.

Cartoon
Hands embrace the word "LOVE."
(EKA: Episode 0926)

Song
"We're Talking 'Bout the Number One"
(First: Episode 3154)




SCENE 5
Big Bird tries to tell the mouse how he feels about their partnership, when the clock strikes one. The mouse realizes how much he needs the clock (and vice versa) and decides to go back to his old nursery rhyme. He performs it once more for their adulation and Luis announces the sponsors.

COMING SOON
Coming soon on Sesame Street: Telly places a stamp on a woman's package.