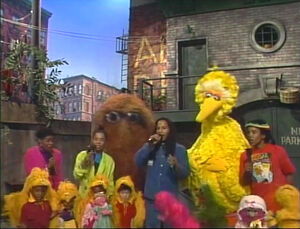 This episode guide has been compiled from incomplete video material.
Picture
Segment
Description




COLD OPEN
Luis and Maria have a lot of work to do at the Fix-It Shop. They quickly present today's sponsors before starting to repair The Count's cuckoo clock.

SCENE 1
The Count's clock is now repaired, though strangely has 19 numbers on it. The Count explains it's Transylvian time and that 19 o'clock is the most important time of the day. They wind the clock to 19 and the bat inside shrieks 19 times. Now, it's "Bat Time," where the Count tells his bats their bat time story (a variation of "Peter Rabbit").

SCENE 2
Humphrey and Ingrid admire their newly-framed photo of Natasha, which happens to be a snapshot of the first time she went "thpfft." They also show off the tons of photos Humphrey keeps in his wallet.




SCENE 3
A drummer checks out his newly-fixed drum, which sounds perfect for Celina and her dancing students. As they drum and dance outside, Maria and Luis decide to put off work for a bit and join them. Humphrey and Ingrid announces the sponsors.

Known missing segments

Picture
Segment
Description

Muppets / Celebrity
Tony Danza and Big Bird play tennis without a ball, and count twenty hits, while Kevin Clash announces.
(EKA: Episode 2255)

Muppets / Celebrity
Prairie Dawn is sad because of how small she is; Ziggy Marley and the Melody Makers cheer her up by singing "Small People". They are joined by Big Bird, Snuffy, the Birdketeers, Natasha, Merry Monster, and Billy.
(EKA: Episode 2945)
Ad blocker interference detected!
Wikia is a free-to-use site that makes money from advertising. We have a modified experience for viewers using ad blockers

Wikia is not accessible if you've made further modifications. Remove the custom ad blocker rule(s) and the page will load as expected.