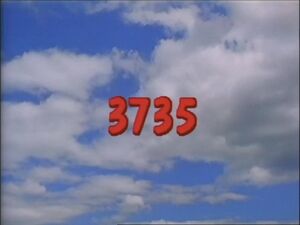 This episode guide has been compiled from incomplete video material.
Picture
Segment
Description




SCENE 1

Big Bird and Snuffy show Maria the (unfinished) poem they've been coming up with about the letter D:

D is for dalmatian, a dog who has spots
D is for doughnut and D is for...

..."dots!," Big Bird then states, pointing to the green dots on his legs. They notice he's covered with them, but they're not sure what they are. Maria decides to call Dr. Matthews to see what the issue is.

SCENE 2

Dr. Matthews (Julie Hagerty) arrives and inspects Big Bird, who's spots have spread ever more and have become itchy. She diagnoses him with "Birdy Pox," something that happens to most big yellow birds his age. She recommends staying in his nest and resting, but he can have guests. She also assures him his Birdy Pox will disappear by bedtime and soothes his dots with an ointment.

SCENE 3

The Count stops by, having heard of Big Bird's ailment. Big Bird hopes the Count can sing him a lullaby, but the Count would rather count. They cooperate as the Count sings a lullaby about the number of spots he has. Big Bird falls asleep, but is woken by the Count's trademark thunder. The Count gets a great idea to help and exits.

SCENE 4

The Count returns with his surprise - 10 kids bringing 10 balloons to cheer Big Bird up!

SCENE 5

Snuffy enters with an idea to get rid of them - Big Bird should tell them to go away. When that doesn't work, Big Bird tries shaking them off. That idea also fails, so Snuffy tries blowing them off with his snuffle. Snuffy's next idea must wait until the first star of the night...

Cartoon

A man counts 40 stars at night.
(EKA: Episode 2243)

SCENE 6

Now nighttime, Big Bird and Snuffy wish on the first star in the sky that the Birdy Pox will disappear. Nothing happens, so the two part ways.




SCENE 6 cont'd

Maria checks in on Big Bird, who's now sobbing and scared that the pox will never go away. Suddenly, Maria notices the pox disappearing from each part of his body! Big Bird has a brief celebration before heading to sleep, as Maria announces the sponsors.