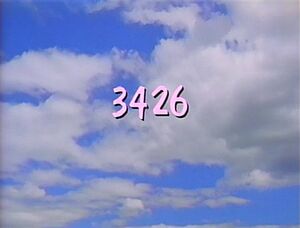 Picture
Segment
Description




SCENE 1

Elmo and Ruthie welcome the viewer to Sesame Street. Ruthie explains to Elmo what kind of stuff her store sells - old stuff that people don't need anymore (hence the name "Finders Keepers"). She displays some of her "new old" stuff, including a toy fire engine, and a lemonade pitcher with lemons painted on it. Linda comes by, and seems to really like the pitcher. Elmo tries to get her attention, but Ruthie reminds Elmo that Linda is deaf, and communicates with sign language.




SCENE 1
cont'd

Ruthie knows a little sign language, so she asks Linda if she likes the pitcher, and Linda does love it so. Linda says something else, but Ruthie isn't clear on it, so Linda writes it down. Linda says she doesn't know if she wants to buy the pitcher yet, and will let Ruthie know after she walks Barkley. Linda leaves, and Elmo now understands how to communicate with Linda. He knows how to write a little, but he doesn't know sign language. Ruthie points to the screen and tells him to "watch this ..."

Cartoon

"Signing Alphabet," an animated film by Steve Finkin. Music for voice and electronics by Joan La Barbara.
(EKA: Episode 1056)

SCENE 1
cont'd

After watching the previous segment, Elmo looks forward to learning sign language. Ruthie goes inside to gather some more treasures to put on display, and Elmo decides to look at what's already outside.




SCENE 1
cont'd

Barkley and Linda come back to Finders Keepers, so Linda can give the pitcher a second look. Suddenly, Barkley hears a cat, and wants to chase it. Linda tries to hold the big dog steady, and as Barkley pulls her away, she accidentally drops the pitcher, and it shatters on the concrete. Elmo doesn't understand why Linda broke the pitcher she wanted to buy, and ran off without telling Ruthie.

Film

How to say "bunny rabbit" in sign language

Cartoon

Kids sing about the joys of celery.
Artist: ArtistMike
(EKA: Episode 3059)




Muppets

Prairie Dawn hosts "Fairy Tales Today," a talk show about fairy tale characters. Today, she interviews some fairy tale fruits and vegetables, including the beans from "Jack and the Beanstalk," the pumpkin from "Cinderella" and the apple from "Snow White," all of whom agree that they get treated unfairly in each of their stories. Prairie says that fruits and vegetables don't have feelings in the real world, which offends them.

Animation

E / e (elephant / jazzy trumpet)
(EKA: Episode 2366)

Animation

Letter Garden: E
(EKA: Episode 3009)

Animation

E / e Gregorian chant
(EKA: Episode 3300)

Song

"It's a Long Hard Road, But I'm Gonna Get There."

Animation

A chicken lays 20 eggs, which hatch.
(EKA: Episode 3122)

Muppets

On a tropical island, Bert, Cookie, Grover and a Caribbean Anything Muppet back-up band sing "Take a Rest."
(EKA: Episode 3107)

Cartoon

A baby and father illustrate up and down.
(EKA: Episode 2749)

SCENE 2

Elmo looks at the broken pitcher on the ground, and still ponders the cause of Linda's actions.

SCENE 2
cont'd

Ruthie comes outside, just as Linda returns to buy the pitcher. They both find it shattered on the ground, and are both clueless as to why it is broken. In Elmo's mind, Linda is hiding the truth from Ruthie.

SCENE 2
cont'd

Ruthie asks Elmo if he knows how the pitcher got broken, and Elmo stammers. This causes Ruthie to wonder if Elmo broke the pitcher.

Song

"Rollin' on the River"
(EKA: Episode 2783)

Film

An Indian boy narrates how Chapati bread is made.
(EKA: Episode 3354)

Muppets

Baby Fats Domino sings "Shake Your Rattle and Roll," encouraging babies to exercise.

Film

A Japanese mother shows her son how to play taiko drums.
(EKA: Episode 3156)

Cartoon

7 rabbits
Artist: Owe Gustafson
(EKA: Episode 3127)




Muppets

The Count's Storybook Theatre
The Count reads the story of "The Magnificent 7" who would save a village from becoming lonely. A mediocre 7 and a magnificent 5 show up first, to the behest of the villagers. Next time on The Count's Storybook Theatre: "20,000 Leagues Under the Sea."
(EKA: Episode 3265)

Cartoon

Rap #7
(EKA: Episode 2506)

SCENE 3

Elmo is put on the spot: he wonders if he should tell Ruthie the truth about the broken pitcher. He assumes Linda doesn't want Ruthie to get angry at her for breaking the pitcher.

SCENE 3
cont'd

Elmo asks Ruthie what if, hypothetically, someone she knew happened to accidentally break something that belonged to her, and what that person should do. Ruthie tells him a story of the time she broke her uncle's favorite lamp, and felt really bad about it. She eventually told him the truth while holding her breath, and he was proud of her for being honest about the accident.

SCENE 3
cont'd

Now that Elmo's question has been answered, he goes off to find Linda, leaving Ruthie baffled.

Animation

In a classic painting, a boy blows a bubble. It pops, and some kids yell "Surprise!"
(EKA: Episode 3409)

Muppets

Big Bird counts 3 "birds," including himself.
Part 1

Song

A chicken sings "It Ain't Heavy, It's My Feather."
(EKA: Episode 3098)

Muppets

Big Bird counts 4 "birds," including himself.
Part 2

Song

"Drink of Water"
(EKA: Episode 2951)

Muppets

Big Bird counts 5 "birds," including himself and Tarah.
Part 3

Cartoon

What if a dog looked like a bird?
Artist: Cliff Roberts
(EKA: Episode 0262)

Muppets

Big Bird counts 6 "birds," including himself, Tarah and Snuffy.
Part 4

Song

"Around and Around"
(EKA: Episode 2885)

Muppets

Big Bird counts "a whole flock of birds," including himself, Tarah, Snuffy, Ruthie and some Birdketeers.
Part 5

Cartoon

A satellite view of the earth is shown on television, while a group of geese decide to fly south.
Artist: Paul Fierlinger
(EKA: Episode 3132)

SCENE 4

Elmo looks for Linda, to tell her not to be afraid to tell Ruthie about the broken pitcher. He doesn't see Linda pass by him.

Cartoon

A boy gets lost in a mall, and a security guard shows him how to use a map.
Artist: ArtistMike

Film

Wegman's dogs form a letter E.

Cartoon

A man saws a letter E through the wall.
(EKA: Episode 0666)

Song

Ornate E's go easing by to a song.
(EKA: Episode 3071)

Animation

Cecille sings "Brushin' Down the Doggies."
(EKA: Episode 3052)

Muppets

The Two-Headed Monster learns how to use a toothbrush.

Cartoon

A dinosaur tries to eat an apple on a tree. A group of kids keep telling him to "GO HIGHER!"
(EKA: Episode 2977)

Film

A boy draws a picture of his friend, Carey.
(EKA: Episode 2776)

Muppets

Here is Your Life: Carton of eggs
(EKA: Episode 3309)

Cartoon

Sign Man: HOT DOG
(EKA: Episode 1142)




SCENE 5

Elmo spots Linda talking to Ruthie about the pitcher. Linda denies any knowledge of what happened to it, so Elmo explains what he witnessed. Ruthie explains to Elmo that since Linda is deaf, she didn't hear the pitcher break as Barkley pulled her away.

SCENE 5
cont'd

Linda apologizes, and Ruthie offers to take her to Hooper's for an ice cream sundae. Ruthie takes Elmo along with them, as Benny announces the sponsors.

COMING SOON

Coming soon on Sesame Street: Miles, Gabi, Big Bird and Lexine witness a squirrel rapping about cleaning up the littered park.