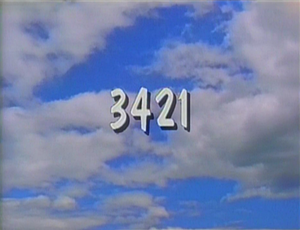 Picture
Segment
Description

SCENE 1
Big Bird welcomes the viewer. Then, everybody sings that "It's Somebody's Birthday" today on Sesame Street and Snuffy is eager to reveal it's his!

Animation
Stop-motion representation of "Happy Birthday," with balloons, gummi bears, glitter, etc.
(EKA: Episode 3358)

Muppets
Monsterpiece Theater: "The Monsters of Venice"
(First: Episode 2836)

Cartoon
Edgar Turtle sings "Hey Diddle Diddle."
Artist: Jeff Hale
(EKA: Episode 2404)




SCENE 2
Snuffy is excited because he'll be having two birthday parties today: one in the afternoon with all his friends, then one at night with his family. He tells Big Bird something he'd like for his party: a performance by the Great Nineteeni, Big Bird's magician alter ego. He recalls some of his past tricks (in flashbacks from episode 3116 and episode 2970) and asks Big Bird to do a magic show at his party. Big Bird agrees to do so and goes to get his outfit.

Cartoon
Masked March #19
(EKA: Episode 3391)

Film
A judo class does 20 jumping jacks.
(EKA: Episode 3403)

SCENE 3
Miles, Gabi, Tarah and Lexine tell Snuffy about all the fun things they'll be doing at the party. Snuffy informs Big Bird, now in his Great Nineteeni outfit, that he can't participate in any of them because of his status of entertainer. Big Bird leaves in a huff, telling Snuffy he won't be attending anymore.

Cartoon
"Island of Emotion"
Artist: Sally Cruikshank
(EKA: Episode 2822)

Animation
B / b candles
(EKA: Episode 3111)

SCENE 4
Big Bird tells Snuffy that all he wants is the Great Nineteeni at his party, not Big Bird himself. Snuffy sings a musical plea to convince him he does care about him. Big Bird stay behind to think about his feelings some more.

Song
"You're Important"
(EKA: Episode 3396)

Cartoon
Campers don't want to play ring toss with Zork, until their counselor reminds them about being judgmental.
(First: Episode 2761)




Muppets
Game Show: Happiness Begins at 40
Guy Smiley gets the Sad Family out of their rut by having them count to 40.
(EKA: Episode 2626)

Cartoon
"The Room is Full of Chickens"
(First: Episode 2971)




SCENE 5
The party begins, but Snuffy can't get into the mood, feeling guilty over his situation with Big Bird. The grown ups assure him everything will be fine, when sure enough, Big Bird arrives for the party. Everyone starts partying and Big Bird offers to do a special performance as the Great Nineteeni.

Song
John Pizzarelli sings about feeling "happy and proud" on your birthday.

Muppets
Ernie and Bert: Bert asks who Ernie is decorating the room for. It turns out to be the viewer at home.
(EKA: Episode 0352)

Animation
WH words (wheel, which, whiz, where, white, whale)
(First: Episode 2937)

SCENE 6
The Great Nineteeni arrives to perform a special trick with the birthday boy. He believes he can guess what number Snuffy is thinking of, while he waves his 19 flag and encourages everyone to chant "19." Snuffy instead thinks of the number 6.

Cartoon
"Animal Elevator" (unknown version)

SCENE 7
Everyone sings "Happy Birthday to You" to Snuffy. Afterwards, everyone digs into the cake, while Big Bird reports that the Great Nineteeni is off performing somewhere else in the world. Gabi and Tarah announce the sponsors.

COMING SOON
Coming soon on Sesame Street: Telly, hiding from Big Bird, hopes that the Fix-it Shop will be open again soon, because he accidentally broke Big Bird's toy car, and he doesn't want Big Bird to find out.