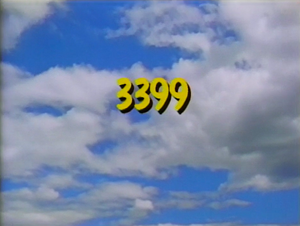 This episode guide has been compiled from incomplete video material.
Picture
Segment
Description




SCENE 1
Big Bird and Lexine run into Baby Bear, who's wearing a nice, new tie. He states his family will be visiting their grandmother and Papa Bear will be around any moment to pick up him. The two want to say the alphabet, but Baby Bear is unsure ("There's a lot of uncharted territory there."). He removes his tie so it won't get dirty as they all say the alphabet. He puts it back on, then immediately takes it off when he sees what's coming up...

Film
A film insert about washing elephants at the Bronx Zoo. The song "Splish Splash" is used in part of the segment.
(EKA: Episode 2096)

SCENE 1 cont'd
Baby Bear leaves his tie off as they all count to 40. A breeze then blows his tie away!

Song
"Dressed Up" (remake)

Muppets
Muppet & Kid Moments: Herry asks John-John if he knows the difference between up and down.
(EKA: Episode 0784)

Animation
Counting 10 shells
(EKA: Episode 3037)

Muppets
Mr. Johnson has lunch at Charlie's Outdoor Al Fresco Fresh Air Cafe, where he's disappointed to find Grover waiting on him. The wind picks up, and blows his food away -- but when Grover gives him the bill, the wind dies down, and he has to pay.
(EKA: Episode 3105)

Film
On a windy day, Maria (in voice-over) asks a man (Bill Irwin), "Does air move things?" The wind speaks for him.
(First: Episode 2876)




SCENE 2
Baby Bear finds his tie soaked in a mud puddle. He hides when Papa Bear shows up, who reports to Big Bird and Lexine their trip is delayed. Baby Bear thinks he can use some soap and water.

Song
"(The Name of the Place is) The Laundromat"
(First: Episode 3159)

Muppets
"African Alphabet Song"
(EKA: Episode 2404)

Animation
African quilt pattern #2
(EKA: Episode 3134)

Animation
Sand V/v
(EKA: Episode 1291)

Film
V for violin: kids play "Twinkle Twinkle Little Star" on the violin.
(EKA: Episode 3280)

Muppets
Baby Tooth and the Funky Funk: Caribbean dance
Part 1
(EKA: Episode 3136)




SCENE 3
Baby Bear washes his tie in a washtub as everyone (including Tarah) sings a "Washy-Washy" song. Baby Bear pulls his tie out from the water...and it's shrunk! He hides when Papa Bear passes by.

Cartoon
"Water Conservation": Frank the fish calls Carl and tells him not to leave the water running while brushing his teeth, otherwise the lake will be dry.
Artist: Peter Chung
(EKA: Episode 2746)

Muppets
Bert sings "I Gotta Be Clean."
(EKA: Episode 3100)

Cartoon
Abstract count to 15
(EKA: Episode 3008)

SCENE 4
Baby Bear has an idea: if he pretends his tie looks the same as before, maybe Papa Bear will see it the same way. Tarah points out that's not how imagination works and offers an alternative: tell Papa Bear the truth. Baby Bear considers doing so.

Muppets
Elmo sings "In Your Imagination."
(EKA: Episode 3119)

Cartoon
V for Van (live-action/animation hybrid)
Artist: Paul Fierlinger
(EKA: Episode 2292)

Film
Floating kids make the letter V.
(EKA: Episode 3133)

Cartoon
Consonant Sound: V, violin
(EKA: Episode 1285)




Muppets
Dicky Tick hosts "Lifestyles of the Big and Little."
(EKA: Episode 2580)

Celebrity
Whoopi Goldberg introduces the sound "WH" and then yells, "Whoopi!"
(EKA: Episode 2861)




SCENE 5
Baby Bear finally finds Papa Bear and confesses what's happened. Papa Bear understands and states everyone makes mistakes, which is why they're running late; Mama Bear got car lube on her dress and Papa Bear has a porridge stain on his shirt. As they head off, Baby Bear considers giving Grammy Bear the tie as a bookmark. Big Bird, Lexine and Tarah announce the sponsors.

COMING SOON
Coming Soon on Sesame Street: Big Bird bounces on Gabi's bed, when it breaks.

Known missing segments

Picture
Segment
Description

Muppets
Baby Tooth and the Funky Funk: Caribbean dance
Part 2
(EKA: Episode 3136)

Muppets
Baby Tooth and the Funky Funk: Caribbean dance
Part 2a
(EKA: Episode 3136)
Ad blocker interference detected!
Wikia is a free-to-use site that makes money from advertising. We have a modified experience for viewers using ad blockers

Wikia is not accessible if you've made further modifications. Remove the custom ad blocker rule(s) and the page will load as expected.