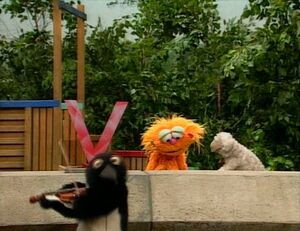 Picture
Segment
Description

SCENE 1
Zoe presents a penguin, horse and lamb, who help her present the sponsors. They add that they'll be helping her with other things today.

Film
Children of all kinds sing "We All Sing with the Same Voice."
(First: Episode 1708)

Cartoon
T for treasure (Jim Thurman VO)
(EKA: Episode 2234)

Film
Kids dance with the letter T, which is for triangle.
(First: Episode 3271)

Cartoon
T for Turtle (new music added)
Artist: Jeff Hale
(EKA: Episode 2234)

Song
Kevin Clash sings "The Pasta Song."
(First: Episode 3137)

Cartoon
"The Wasteroon Song" - three water drops complain about people wasting water, calling them "Wasteroons."
Artist: ArtistMike
(EKA: Episode 2876)

Film
A boy draws a picture of his friend, Kerry.
(EKA: Episode 2776)

SCENE 2
Zoe presents today's number of the day - 9, only she struggles to count to the number. The penguin appears with a helpful short...

Cartoon
Nine penguins slide down a hill.
Artist: Owe Gustafson
(EKA: Episode 2596)

SCENE 2 cont'd
Zoe is able to count a little higher, but still can't reach 9. The lamb appears and rolls his own film...

Cartoon
Nine sheep (Swedish)
(EKA: Episode 1845)

SCENE 2 cont'd
Zoe counts closer to 9, but still falls short. The horse cues another 9 short...

Cartoon
"Dinner for Nine"
Artist: Paul Fierlinger
(EKA: Episode 1736)

SCENE 2 cont'd
Zoe successfully counts to 9 and everyone cheers.

Film
Wegman's dogs form numbers from 0 to 9.
(EKA: Episode 3272)

Muppets
Is Barkley a DOG or a BANANA?
(EKA: Episode 2838)

Film
"DOG" - different kinds of dogs are shown, including a hot dog (which a dog eats).
(EKA: Episode 3326)




Cast
A remake of "Can Read" with Mr. Handford reading a recipe, Rosita reading a letter from her abuela, and Ruthie reading a box label.
(EKA: Episode 3337)

Cartoon
I Love You, in American Sign Language
Artist: Steve Finkin
(EKA: Episode 1186)

Film
A boy signs the word cat, and morphs into one.
(EKA: Episode 3323)

Muppets / Celebrity
Jodie Foster tells Oscar what the word important means, and lists the reasons why he is important to her, making him more and more annoyed.
(EKA: Episode 3117)

Cartoon
Pizza maker Original Jay demonstrates how he got his name: his pizzas talk and dance.
Artist: Mo Willems
(EKA: Episode 3280)

Film
Sounds Around the House with Violin
(EKA: Episode 1706)

SCENE 3
Zoe introduces the letter V, but can't think of any V words. The animals appear with violins to help give her a clue.

Cartoon
Speech Balloon: V for Violin
A musician plays a violin, which instantly breaks.
(First: Episode 0052)

SCENE 4
Zoe demonstrates that she can announce the sponsors without the help of the animals.