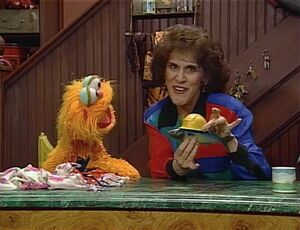 This episode guide has been compiled from incomplete video material.
Picture
Segment
Description

SCENE 1
Zoe tries to figure out why Wolfgang the Seal is waving his flipper about. It turns out to be in pain, so Zoe takes him to a grown-up.

Cartoon
Kevin Clash sings "Your Feet's Too Big."
Artist: Sally Cruikshank
(EKA: Episode 3261)

Muppets
Mr. Johnson comes to Grover's photo studio to have his portrait taken. However, Grover photographs his foot and hand instead, and has to be reminded to capture the face.
(EKA: Episode 3232)

Animation
Sand S / s
(EKA: Episode 1299)

Muppets
"Some Enchanted Lunchtime"
(EKA: Episode 3230)

Animation
Crayons play together.
(EKA: Episode 3105)

SCENE 2
Zoe takes Wolfgang to Ruthie, who discovers he's got a splinter in his flipper. He is scared to have it removed, but they distract him well enough to remove it without him noticing. He's so happy, he showers the two in kisses.

Cartoon
Two scribbles are hesitant to let a tall green one join them, until it protects them from the rain.
(EKA: Episode 2489)




Muppets
Big Bird's Video Postcards
Big Bird explores the mask gallery at the Museo del Barrio in New York City. Edna, the art instructor, shows him and some kids how to make their own masks for a parade.
(EKA: Episode 3058)

Muppets / Celebrity
Randy Travis sings "You Gotta Ask Some Questions."
(EKA: Episode 2782)

Cartoon
Bruce the moose invites Toulouse LaGoose over for juice.
(EKA: Episode 2589)

SCENE 3
Wolfgang attempts to thank Ruthie by giving her some fish. She politely keeps one and lets him have the rest to eat. She then wonders what she can do with it and gets an immediate idea...

Animation
Five goldfish, take away 2, leaves 3. (new music added)
(EKA: Episode 2401)

Muppets
"Pond Full of Fish"
(EKA: Episode 2840)

Cartoon
Gloria talks about 'W'
(EKA: Episode 1201)

Film
Alphaquest: W
(EKA: Episode 3057)

Cartoon
W for Willamina
(EKA: Episode 0950)

Muppets
Elmo and Zoe demonstrate above and below with a cloud.

SCENE 4
Ruthie uses the fish to help illustrate a Spanish word - agua.

Film
AGUA: kids play in water.

Muppets
Ernie sings "Dance Myself to Sleep."
(EKA: Episode 1707)

Cartoon
Which footprint doesn't belong?
(EKA: Episode 1092)

Muppets
(The New) Here is Your Life
Sonny Friendly honors a storybook of "Little Red Riding Hood."

SCENE 5
Ruthie sings "The Fish in Your Neighborhood," putting hats on the fish to demonstrate different jobs.

Film
Letters in the Pool

Muppets
Fairy Tales Today
Prairie Dawn interviews The Princess from "The Princess and the Pea", who can't seem to get to sleep. Prairie suspects it's the pea under the mattress that's preventing her sleep, but it turns out she needs the pea to sleep on, as she has gotten so used to sleeping on it.

Cartoon
Anansi's Stories

Muppets
The Count sings about his "Counting Vacation."

Cartoon
A map of Brazil morphs into the shape of animals that are found there.
(EKA: Episode 2921)

Film
A girl draws a picture of her friend, Dai Xi.
(EKA: Episode 2856)

SCENE 6
Ruthie has come up with yet another use for the fish: feeding it to her seal friend to make him happy. She and Zoe announce the sponsors.

Known missing segments

Picture
Segment
Description

Cartoon
Donnie Budd sings "Three on Lady's Lap." (new sound effects added)
Artist: Bud Luckey
(EKA: Episode 0354)

Film
Three Wegman dogs are arranged in different ways.
(EKA: Episode 3312)
Ad blocker interference detected!
Wikia is a free-to-use site that makes money from advertising. We have a modified experience for viewers using ad blockers

Wikia is not accessible if you've made further modifications. Remove the custom ad blocker rule(s) and the page will load as expected.