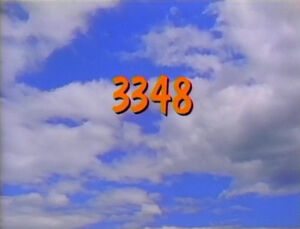 This episode guide has been compiled from incomplete video material.
Picture
Segment
Description




SCENE 1
Elmo and Herry Monster plan to use their pencils to make the number of the day - 11. But, neither of them are able to hold them well enough to draw anything. Elmo realizes that by putting the pencils next to each other, they make an 11!

Cartoon
Lightning bugs make shapes.
Artist: Fred Garbers
(EKA: Episode 3174)

Song
"I'm in Great Shape": Kids dance with triangles, circles and squares.
(EKA: Episode 3300)

Cartoon
Kids try to guess what a bunch of shapes will form; eventually they form a chicken.
(EKA: Episode 2978)

Muppets
Grover is the newest employee of a fast food franchise which serves such delicacies as O'Fish, O'Salad, O'Rye Bread, and O'Milk. However, this is a different kind of "fast food" restaurant: the food zips by the customer on trays across the counter, and falls to the floor if it's not caught in time. Mr. Johnson is not ready for this, so he asks if there's any "slow food." There is, but it's served by a turtle who takes longer than Mr. Johnson wants to wait.
(EKA: Episode 2601)

Animation
Counting up to 11 (African masks)
(First: Episode 3151)

Cartoon
"It's A Lovely Eleven Morning" (new sound effects added)
Artist: Bud Luckey
(EKA: Episode 0514)

SCENE 2
Angela and Lexine come and see the Amazing Mumford's famous 11 trick, where he makes the number come out of his hat. Instead, Benny Rabbit appears from the hat. Angela points out that Benny's teeth and ears resemble an 11, so the trick worked after all. Mumford then magically sends Benny downtown...Philadelphia.

Film
How to say "bunny rabbit" in sign language
(EKA: Episode 3300)

Cartoon
A dinosaur tries to eat an apple on a tree. A group of kids keep telling him to "GO HIGHER!"
(EKA: Episode 3197)

Celebrity
"Rubber Duckie" with Little Richard.
(EKA: Episode 3309)

Cartoon
A boy puts together a fishbowl, and watches his fish swim around in it.
(EKA: Episode 2630)

Film
Footage of kids playing professions, alternating with footage of analogous real-life jobs.
(EKA: Episode 2840)

Cartoon
A woman sings the "O" sound in a brief opera.
(EKA: Episode 3323)

Film
A gymnast twirls ribbons to form the letter O.
(First: Episode 3136)

Cartoon
A lady receives a letter O in the mail, which promptly rolls around her living room.
Artist: ArtistMike

Cast
Gordon, Big Bird, Celina, Carlo, Gina and Ruthie sing "Goodbye Fly."

Cartoon
A female head is drawn as its voice-over lists its parts, ending with earrings that "do nothing" ...
(EKA: Episode 0821)

Song
David sings "Who You Looking At, Tiger?"
(EKA: Episode 0418)

Muppets
Sesame Street News Flash: The First Day of School (new music added)
(EKA: Episode 2682)

Cartoon
"If You've Lost Your L, Look Around"
Artist: Bruce Cayard
(EKA: Episode 1845)

Film
The floating kids form an L.
(EKA: Episode 3128)

Cartoon
A salesman (voice of Martin P. Robinson) hawks the letter L in a commercial.
Artist: Mo Willems
(EKA: Episode 3306)

Muppets
Bad Bart is looking for Marshal Earp.
(EKA: Episode 0675)
Ad blocker interference detected!
Wikia is a free-to-use site that makes money from advertising. We have a modified experience for viewers using ad blockers

Wikia is not accessible if you've made further modifications. Remove the custom ad blocker rule(s) and the page will load as expected.