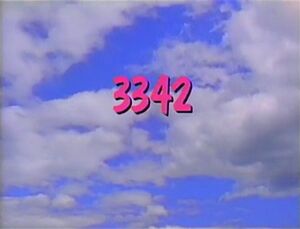 This episode guide has been compiled from incomplete video material.
Picture
Segment
Description

COLD OPEN
Ruthie tells Elmo that the Prince Charming is inside Finders Keepers and brings him inside to meet him.

SCENE 1
Ruthie tries introducing Elmo to Prince Charming, but the prince is too busy dealing with phone calls and faxes. He gets too overwhelmed and quits being a prince.

Film
A TELEPHONE rings at a phone booth in the city, and someone answers it.
(EKA: Episode 3274)

Cartoon
Figures dance around a telephone as it rings.
Artist: Keith Haring
(EKA: Episode 3058)

Cartoon
Pencil box K / k
(First: Episode 2876)

Film
Wegman's dogs form the letter K, as in king.
(EKA: Episode 3296)

Cartoon
K for kangaroo
(EKA: Episode 2758)

Muppets
Baby Tooth and the Funky Funk: "Boogie With Your Buddy"
Part 1
(EKA: Episode 2986)

Celebrity
Maya Angelou leads Big Bird and some kids in a ring game, "Little Sally Walker."
(First: Episode 3171)

Cartoon
A girl recites a poem about her first loose tooth.
Artist: ArtistMike

Muppets
Baby Tooth and the Funky Funk: "Boogie With Your Buddy"
Part 2
(EKA: Episode 2986)

Cartoon
A mother and her son make juice popsicles.
(EKA: Episode 1236)

Song
"It's Time for a Rhyme"
(EKA: Episode 3160)

Cartoon
Two white squares try to push a great big object, and are reluctant to let a black square join them at first.
Artist: Fred Garbers
(EKA: Episode 2849)

SCENE 2
Ruthie and Elmo pitch potential new roles that the (former) Prince Charming could do, but none seem very low-stakes. He finally settles for a shoe salesman, and changes his name to "Seymour the Shoe-Salesman."

Song
"Fixin' My Hair"
(EKA: Episode 2734)

Animation
I / i Gregorian Chant

Muppets
Monsterpiece Theater: The King and I
(EKA: Episode 2695)

Muppets
Baby Tooth and the Funky Funk: "Boogie With Your Buddy"
Part 3
(EKA: Episode 2986)




SCENE 3
"Seymour" finishes setting up his shoe shop and expects his new occupation to be easy. The Count comes by and continually asks for pairs of shoes, running the Prince ragged (in fast footage) and counting each pair until there are 19 pairs of shoes in the Count's hands. The Prince becomes fed up with selling shoes and decides to be someone else.

Cartoon
Counting to 10 (Latin rhythm) (Spanish dub).
(EKA: Episode 3045)




Muppets
Big Bird's Video Postcards
Big Bird visits a Puerto Rican casita in East Harlem. He tries to find out what people do there, but everyone is too busy raising chickens, planting tomatoes, cooking and planning music to answer.
(EKA: Episode 3018)

Animation
Rap 19
(EKA: Episode 2682)

Film
Growing Numbers #19
(EKA: Episode 2970)

Cartoon
Nineteen popcorn kernels
(EKA: Episode 2855)

SCENE 4
Donning a purple cape, the Prince decides to be a Count, but grows weary of it after reluctantly counting to 10 with a couple of kids. The Count briefly shows up, overhearing that the Prince is a Count too, prompting the Prince to storm off.

Song
"Mom and Me"
(EKA: Episode 2624)

Film
What sound does a rooster make?
(EKA: Episode 3301)

Film
A big K emerges, "Jaws"-like, in a swimming pool.
(EKA: Episode 3326)

Cartoon
"Alphabet Jungle"
(EKA: Episode 2879)




SCENE 5
Prince Charming figures out what (not who) he wants to be: an animal. He makes several animal sounds, which attracts a dalmatian, a chicken and a pig, much to his dismay. After Ruthie announces the sponsors, Prince Charming decides he wants to be a prince again. Just then, an off-screen princess calls out for help, so Prince Charming exits, leading the animals away. Ruthie and Elmo sign-off and excitedly wave good-bye.

Known missing segments

Picture
Segment
Description

Muppets
Baby Tooth and the Funky Funk: "Boogie With Your Buddy"
Part 4
(EKA: Episode 2986)
Ad blocker interference detected!
Wikia is a free-to-use site that makes money from advertising. We have a modified experience for viewers using ad blockers

Wikia is not accessible if you've made further modifications. Remove the custom ad blocker rule(s) and the page will load as expected.