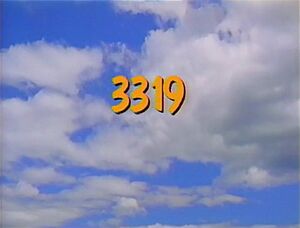 Picture
Segment
Description

COLD OPEN
Big Bird and Celina are heading to dance class and they run into Tarah, who's waiting for her racing chair. Her friend Ryan zooms by on his own and she hopes to race him when her chair arrives. She decides to continue waiting in the studio with Big Bird and Celina.

SCENE 1
Tarah gets upset with the step to the studio, since her chair can't go upstairs. Celina offers to carry her, but Tarah wants to get up on her own and wishes there were a ramp. Celina is inspired to call a ramp builder.

Cartoon
"Island of Emotion"
Artist: Sally Cruikshank
(EKA: Episode 2822)




Cast / Celebrity
Arrested Development performs "Pride" as everyone on Sesame Street joins them.

Cartoon
At the Pride Day Ceremony, Donald is waiting to describe his proudest accomplishment, and is initially unsure of himself next to other impressive students. He finally proudly acclaims his achievement, tying his shoes all by himself.
Artist: John Korty
(EKA: Episode 2254)

Muppets
Elmo sings "Right in the Middle of My Face" while walking through an animated art gallery.
(First: Episode 3130)

Cartoon
A female head is drawn as its voice-over lists its parts, ending with earrings that "do nothing" ... and promptly wiggle around.
Artist: James Rizzi
(EKA: Episode 0821)




SCENE 2
The "Ramp Guy" (played by a live-action Brian Muehl) arrives and measures the step, then goes to his truck to get the materials. Tarah explains to Big Bird the times when she doesn't use her chair and when she's done, the ramp is finished!

Animation
A girl plays in, on, and under a sculpture.
(EKA: Episode 2898)

SCENE 3
In the studio, Big Bird is amazed that Tarah can do aerobics from her chair. Celina leads the class in a "Workout in a Chair."

Cartoon
A caterpillar sings "Exercise, Exercise."
Artist: ArtistMike
(EKA: Episode 2839)

Song
"Write Your Name"
(First: Episode 3274)




SCENE 4
Celina reads the story of "The Princess in the Low Tower." In the story, a prince wishes to take the wheelchair-bound princess out for a pizza, but she can't leave her tower because of her chair. The prince offers some suggestions, none of which suit the progressive princess. A humble carpenter happens by and offers to build a ramp for her. With the ramp in place, the three of them go get a pizza.

Cartoon
Jerry Nelson sings "In My Book."
(First: Episode 2983)

Muppets
Kermit shows what's inside of Herry Monster using an X-ray machine.
(EKA: Episode 2254)




SCENE 5
Class has finishes and Tarah's racing chair has arrived! Her parents help her in it. Tarah assures Big Bird that the chair is safe for her, despite her condition. She races Ryan as a voice-over announces the sponsors.