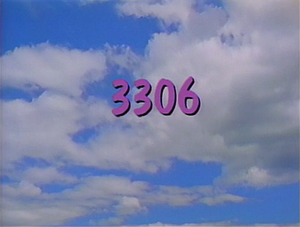 This episode guide has been compiled from incomplete video material.
Picture
Segment
Description




SCENE 1
Susan watches as Telly bounces on his pogo stick. They're then approached by Mick the Stick, a pogo trainer who thinks Telly has what it takes to win the Pogo Stick Championship today. He promises Telly his victory will lead to trophies, television appearances and being appointed Secretary of Pogo Sticks by the President of the United States. Telly takes up Mick's training offer. Susan is skeptical about the situation, but Telly is too focused on victory to listen.

Cartoon
A dinosaur demonstrates up and down with a pull-down window shade.
(EKA: Episode 2887)

Film
A boy's mother and grandmother make him a pair of moccasins.
(EKA: Episode 2987)

Cartoon
A salesman (voice of Martin P. Robinson) hawks the letter L in a commercial.
Artist: Mo Willems

Muppets
Snuffy wears a green derby hat as he sings about L, "The Leading Letter of My Life."
(EKA: Episode 2313)

Film
Kids talk about building sand castles and sand structures at the beach.
(EKA: Episode 1839)

SCENE 2
Oscar watches as Telly practices his bouncing and he plants the idea of losing in Telly's head. He points out that if he loses, he won't get any accolades, he'll just remain Telly Monster. Telly enjoys being himself and sees that as a win-win situation, thanking Oscar for his help.

Song
Leon Redbone sings "Have You Ever."
(First: Episode 3274)

Cartoon
A man juggles until he is told to STOP.
Artist: Cliff Roberts
(EKA: Episode 2773)

Muppets
Game Show: Say The Word
(EKA: Episode 1836)

Film
Rodrigo lives in the Philippines. He and his family like spending a day at the park.

SCENE 3
Mick tells Telly he needs to be four things in order to win, all of which are "quick." He trains Telly in speed by having him catch a chicken. Telly succeeds, but now Mick tells him there's another key to victory - the trick.

Film
Egyptian #4

Film / Animation
Four butterflies fly across a film of a waterfall.
(EKA: Episode 2834)

Cartoon
Elephants have four legs.
(EKA: Episode 0560)

Muppets
Waiter Grover: Mr. Johnson eats at an airport restaurant and is on his way to South America. When Grover learns about Mr. Johnson's trip, he gives a big lecture on South America, causing Mr. Johnson to miss his flight.
(EKA: Episode 2616)

Cartoon
Geography Guy finds Brazil on the globe.

SCENE 4
Mick teaches Telly the trick - the triple clutch, where Telly bounces three times while spinning. Telly masters the trick, but the two see the chicken is just as good. Mick proposes they try the quadruple clutch instead.

Film
A gymnastics team practices tricks for the circus.
(EKA: Episode 2943)
Ad blocker interference detected!
Wikia is a free-to-use site that makes money from advertising. We have a modified experience for viewers using ad blockers

Wikia is not accessible if you've made further modifications. Remove the custom ad blocker rule(s) and the page will load as expected.