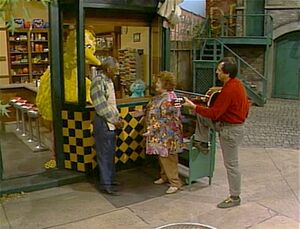 This episode guide has been compiled from incomplete video material.
| Picture | Segment | Description |
| --- | --- | --- |
| | SCENE 1 | Big Bird welcomes the viewer as Luis announces to him and Rosita that Maria's aunt, Tia Lola, has arrived from Puerto Rico. Big Bird calls over Mr. Handford to meet her, but he claims he's busy, until he sees her and is smitten. The rest of them take notice, and the two kids begin scheming on how to get them together. Rosita recalls how her grandfather won her grandmother over: by playing a song outside her window. But first, they need to write him a song. |
| | SCENE 2 | Rosita and Big Bird go to Mr. Handford and explain their plan and sing their song for him. However, he points out that Tia Lola knows little English and their song is completely English. They leave to rewrite the song. |
| | SCENE 3 | Mr. Handford, with Luis on guitar, is ready to sing the Spanish lyrics. They sing toward their window, but she doesn't respond. Maria and Lola appear from behind them, having been in Hooper's the whole time. Maria sees they're preoccupied and leaves with Lola. |
| | SCENE 4 | They find Lola with Maria inside the Fix-It-Shop, but Big Bird points out that the lyrics mention her coming to the window and the shop doesn't have a window that will open. They change it to "puerta" (door). However, Lola is busy listening to her headphones and can't hear the song. |
| | SCENE 5 | Rosita and Big Bird try to cheer Mr. Handford up, despite his protests that he's not sad. Just then, Tia Lola arrives singing the song for Mr. Handford. |
| | SCENE 6 | Monty enters the store to help Mr. Handford prepare for his date, claiming to know Spanish. However, the only word he knows is "hola." |
| | SCENE 7 | Maria and Luis watch Mr. Handford and Lola arrive back from their date. He tells them they went dancing. They all begin to dance together as a tango version of the theme plays, and Rosita announces the sponsors. |
Ad blocker interference detected!
Wikia is a free-to-use site that makes money from advertising. We have a modified experience for viewers using ad blockers

Wikia is not accessible if you've made further modifications. Remove the custom ad blocker rule(s) and the page will load as expected.