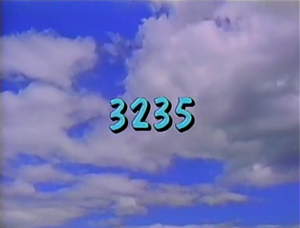 Picture
Segment
Description

COLD OPEN
Telly has difficulty introducing today's sponsors over a loud, banging noise. He and Oscar go to investigate.

SCENE 1
In the arbor, the Japanese drumming group Soh Daiko performs a routine for a gaggle of street residents.

SCENE 1 cont'd
Following the performance, Celina introduces the group to Telly and Oscar and tells them the group is giving a lesson today on the taiko drums. They're both eager to learn, especially Oscar, who wants to create a loud ruckus.

Animation
Counting to 15 (Oriental music)
(EKA: Episode 3157)

Film
Growing Numbers #15
(First: Episode 2971)

Cartoon
Abstract count to 15
(First: Episode 2851)

Song
"Dancin' Shoes"
(EKA: Episode 2949)

SCENE 2
Everyone is in traditional wardrobe and has their own taiko drum, ready to play. First, one of the Soh Daiko members gives a talk on the origins of the drums and how they work. Then, he instructs them on how to play. Telly takes a while to bang the drum hard enough, but Oscar proves to be a natural.

Animation
Stop-motion: what goes in the hot dog bun?
(EKA: Episode 1240)

Muppets
"Let's All Exercise"
(EKA: Episode 2527)

Cartoon
Howard Coolsell finds out about exercise.
Artist: Irra Verbitsky
(EKA: Episode 2243)

Film
Kids talk about playing tennis.
(EKA: Episode 3148)

Cartoon
The rabbit and the turtle race to the top of a building. The rabbit goes up forty steps, but the turtle takes the elevator.
(EKA: Episode 2258)

Insert
Big Bird reads a poem about how hard it is to be a sheep, and become cold when giving up one's wool: "So let's be fair when snow is deep, let's put the sweater on the sheep." Accompanied with cotton sheep illustrations.
(EKA: Episode 2636)




Muppets
While Ernie is away visiting the Count, Bert has the place all to himself... or so he thinks! A group of sheep burst into the room and proceed to sing him a song ("Bert's Blanket") about how his blanket was made (with a flashback scene where Ernie is portrayed as a farmer). Bert then corrects them on the actual production phase.
(EKA: Episode 2447)

Cartoon
Speech Balloon: N for Nail
(First: Episode 0040)

Animation
Finding N's on a computer screen
(EKA: Episode 3039)

Cartoon
The Typewriter: N for Nose
Artist: Jeff Hale
(EKA: Episode 1092)

Muppets
Elmo sings "Right in the Middle of My Face" while walking through an animated art gallery.
(First: Episode 3130)

Cartoon
I hab a cauld ib by dose.
Artist: Bruce Cayard
(EKA: Episode 1186)

Muppets
Sesame Street News Flash
Kermit interviews a bird who sings about how her parents still love her even though they don't live together anymore (though it is not directly stated whether her parents are divorced or separated).
(First: Episode 2695)

Cartoon
A rolling circle becomes a square, then a triangle, and various other shapes.
(EKA: Episode 2759)

SCENE 3
Everyone continues playing, though Oscar wishes it could sound as noisy as before. One member tells him they'll all need to play together and cooperate to accomplish that, an idea that is against Oscar's entire belief system as a Grouch. He's told a special Japanese term he can use as an excuse for playing along with everyone.

Animation
Three stripes form a jazz trio.
(EKA: Episode 2410)

Muppets / Celebrity
The Count teams up with Kid 'n Play for a rap song about how they argued whether they should rap or count.
(EKA: Episode 2797)

Cartoon
A peacock counts twenty feathers on his tail.
(EKA: Episode 0406)

Film
An Indian boy narrates how Chapati bread is made.
(EKA: Episode 3204)

Cartoon
On his way to the store, a boy gets distracted and remembers to buy different things.
(EKA: Episode 0853)

Muppets
All types of wild animals that lay eggs sing "Let's Lay an Egg."
(EKA: Episode 3060)

SCENE 4
Everyone puts on a grand performance. Oscar is disappointed Soh Daiko now has to leave, wondering how he'll learn to play the drums and create such a noise in their absence. He gets a great idea and tells the drummers to "beat it."

Animation
A girl reads a book, a magazine, a newspaper, and a letter.
(First: Episode 3142)

Cartoon
Pat the Pilot skywrites a letter P with her plane.
Artist: John Korty
(EKA: Episode 0796)

Film
Kids paint P-word animals on glass.
(First: Episode 0119)

Cartoon
P Words (including parachute and plug)
(EKA: Episode 2282)

Muppets
Cookie Monster visits the local bakery to talk about "important". He shows off the different kinds of cookies that are important to him.

Cartoon
I am dry, they are wet (man laying on the beach)
Artist: Cliff Roberts
(EKA: Episode 0309)

Muppets
Ernie & Bert — Everything is getting wet, because it's raining and a window is stuck open. But Ernie explains that he can't fix it now because he'd get wet in all that rain. When the rain stops, he explains to Bert that since it's not raining anymore, nothing's getting wet, and there's no reason to fix it.
(EKA: Episode 0344)

Cartoon
Sign Cartoons: WET PAINT
(EKA: Episode 1199)




SCENE 5
Oscar organizes Telly and the Grouchketeers to bang on trash cans and pots like drums. Savion complains about the noise, which Oscar notes is them only practicing; it could take years before it sounds any better (to Oscar's joy). They continue drumming, while Savion tries announcing the sponsors over the noise.