Episode 322: The Clip Show II
Talk

0
25,898pages on
this wiki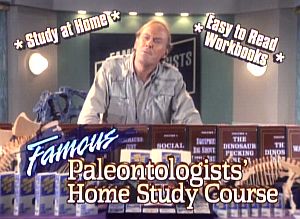 Scenes from various episodes are interspersed with pitches by paleontologist Sir David Tushingham that try to lure customers into the glamorous, high-paying world of paleontology by getting them to buy the Famous Paleontologists' Home Study Course. In true informercial style, there's a deal-a-dinosaur wheel and comic testimonials from satisfied customers.
Guest stars
Edit
This is the second clip show episode of the series, the first being "The Clip Show."
Although the official run of the third season wrapped in early May (May 9th) on ABC, this clip show episode, which was produced with the third season, aired as a hold-over summer special in July 1993.
After this episode aired, it would be another 11-months until ABC would air new episodes.
Bill Barretta makes a cameo appearance as Nick, a "person just like you" in the infomercial. In reference to the character he plays (Earl Sinclair), he wears a red-and-black plaid shirt.
Video releases
Edit