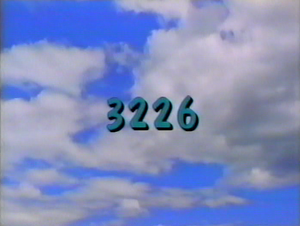 Picture
Segment
Description




SCENE 1
The Martians materialize in Hooper's Store and are initially frightened by Gina, who calms them down and attempts to communicate. She understands that they're hungry and gives them a menu, which they chose to eat. Satisfied, the two disappear.

Cartoon
Fruta Manzana sings about being happy and healthy.
Artist: Don Duga and Irra Verbitsky
(EKA: Episode 1231)

Muppets
Sesame Street News Flash: Kermit the Frog reports on the story of Jack and Jill. Jack needs someone to go up the hill with him. First he chooses Mervin, then Francine and Gladys the Cow. Finally Jack chooses Jill, who refuses go up the hill with him again, so he asks Kermit to fill in.
(EKA: Episode 1071)

Cartoon
Leaves form R and r
(EKA: Episode 3110)

Film
Letter R hoist
Music: Joe Raposo
(EKA: Episode 0901)

Cartoon
Typewriter Guy: R for Rope
Artist: Jeff Hale
(EKA: Episode 0901)

Cartoon
The weary traveler asks the wise man to demonstrate none, some, most and all with a basket of oranges.
(EKA: Episode 1008)

Muppets
Waiter Grover: Grover informs Mr. Johnson that the restaurant is out of a lot of items that are on the menu. The only thing still at the restaurant is milk... but there are no glasses.
(EKA: Episode 1456)

SCENE 2
Angela leads the children at her home care in a song about what you can do with arms.

Cartoon
A boy counts down to 0 as he eats his soup.
(EKA: Episode 2283)

Muppets
Ernie is in a counting mood, and decides to count all of the cookies in a box of them. Cookie Monster overhears this and asks if he can have all of the cookies after they are counted, and Ernie agrees. But after opening the box, Ernie finds that there are 0 cookies in it. Ernie has another box, but it also has 0 in it. Ernie then remembers that he put all of the cookies into a cookie jar, and starts to count, but Cookie Monster impatiently eats all of the cookies before Ernie can finish counting.
(EKA: Episode 2648)

Song
"Zero Song": A female voiceover sings about the food that keeps being taken away to make 0.
Arist: Jane Aaron
(First: Episode 3003)




Insert
Lea Salonga sings "A Little Bit" to a duck, Big Bird, and the Birdketeers.
(First: Episode 3154)

Cartoon
Look both ways before you cross the street.
Artist: Ray Favata
(EKA: Episode 2228)

SCENE 3
The Martians now appear at Angela's home care.

Animation
A big paper clip and a small paper clip can hold papers together, and so can a small staple, with the help of its "mommy."
(First: Episode 2930)

Muppets
Two flowers, a baby sparrow, and two bunnies sing "That's How I Got Here."
(First: Episode 2983)

Cartoon
Sand Y / y
(EKA: Episode 0871)

Animation
Planet Y / y
(EKA: Episode 2859)

Film
A boy hikes up a mountain with his family.
(EKA: Episode 2772)

Cartoon
St. Bernard dog leads Zork down the snowy hill.
Artist: ArtistMike
(EKA: Episode 2766)

Muppets
Zoe talks about being proud.

Cartoon
A lizard, a girl and a dog dance.
Artist: Karen Aqua
(EKA: Episode 2795)

Muppets
Muppet & Kid Moments: Morgan and Grover count in English and Spanish.
(First: Episode 3138)

Song
"Conga Counting Song"
(First: Episode 2778)

Cartoon
"Beginning, Middle, End"
Artist: Sally Cruikshank
(EKA: Episode 2609)




SCENE 4
Telly stops by Hooper's at night. Mr. Handford tries guessing what Telly needs before he closes for the night, learning Telly only wants to check out the "CLOSED" sign. Mr. Handford escorts him home, as Savion announces the sponsors afterwards.