Episode 321: Colobus Monkey & Flying Squirrel
Talk

0
Share
Ad blocker interference detected!
Wikia is a free-to-use site that makes money from advertising. We have a modified experience for viewers using ad blockers

Wikia is not accessible if you've made further modifications. Remove the custom ad blocker rule(s) and the page will load as expected.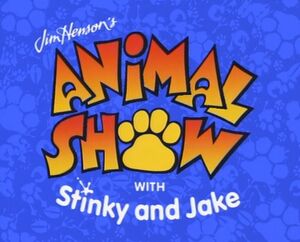 Two animals that are known for their gliding abilities are the guests. Because Cody the Colobus Monkey kept gliding around above Stinky and Jake, they become concerned that their heads will fall off. As a result of this, Stinky plans to glue Quincy the Flying Squirrel down, but before he an do this, Stinky trips and touches Quincy's hands which glues them together. Eventually, Stinky uses Yves St. La Roache's exploding marmalade to unstick them.
Segments
Opening
That's Amazing: Monkey with no thumbs
Guest: Cody the Colobus Monkey
Baby Talk: Monkeys eating leaves on trees
Song: Glide, Glide, Glide
Rhonda Rat: Rhonda asks a (very depressed) penguin, "Which of three animals can fly?"
Yves St. La Roache: exploding marmalade
Guest: Quincy the Flying Squirrel
Song: Stinky and Quincy sing Two's a Crowd
Animal Awards: The best glider
Story: The Great Bat
Habitat Time: Tree-filled areas
Rhonda Rat: Quincy is asked, "Which animal doesn't live in trees?"
Closing
Performers