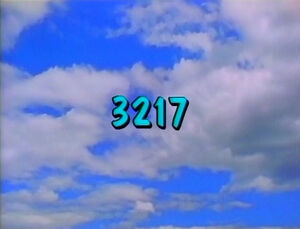 Picture
Segment
Description

SCENE 1
Biff strolls into Hooper's Store for lunch, when Telly and Mr. Handford see he's got a bowling ball stuck to his hand. Biff explains that it's stuck, but oddly doesn't want it removed, claiming he's happy like that. Telly points out he can't do anything with it stuck on him, but Biff counters. He tries scratching his nose, but instead bonks himself to the floor.

Film
Balloons are popped in front of kids' faces, demonstrating surprise.
(First: Episode 2923)

Animation
Several cards form an H.
(First: Episode 3139)

Muppets
Spaceship Surprise: The Next Generation
The crew lands on Planet H. They are greeted by Hopalong Hamster, and see Happy Harry the Hopping Haystack and hula dancing hens.
(First: Episode 3195)

Film
A variety of H's are grown in a garden.
(First: Episode 3016)

Cartoon
A baby bird tries and tries again to fly from its nest.
Artist: Don Duga and Irra Verbitsky
(EKA: Episode 1858)

SCENE 2
Biff attempts to eat his lunch with the bowling ball, but finds he can't pick up his sandwich or milk with his stuck hand. Telly suggests a straw, which gives Biff a free hand - the one with the bowling ball. He demonstrates swatting a fly with in, knocking himself over again.

Song
"Ookyook Song," a Joe Raposo song with the Alaskan words for all the things you need to put on when it's ukiuq (winter).
(EKA: Episode 2404)

Cartoon
The Typewriter: V for Vacuum
(EKA: Episode 0952)

Animation
Ornate Vs spin around as a song about them plays.
(First: Episode 2942)

Cartoon
Vitamins give vim, vigor and vitality to a droopy V
Artist: John Hubley
(EKA: Episode 0914)

Muppets
"Home to Me"
(EKA: Episode 2122)

Film
A Puerto Rican family get-together includes cooking, playing soccer, and finally the big dinner.
(First: Episode 3081)

Cartoon
A cartoon shows a few Spanish words - which are also English words.
Artist: Fred Garbers
(First: Episode 3011)




SCENE 3
In the arbor, Biff starts an experiment - can he play the piano as well as he used to with a bowling ball on his hand? Biff plays along to a classical recording, producing a horrid sound and sending the keys flying everywhere. Telly, rattled, doesn't notice a difference in how he used to play. Biff considers the experiment a success and accidentally demolishes the piano. He suggests calling a piano tuner.

Song
Holy cow, it's number 2!
(First: Episode 3193)

Cartoon
The Bellhop is told that there are two kids, Betty and Bobby Blobby, who are lost in the lobby, and he must help them find their parents.
(EKA: Episode 2503)

Film
The McDouble twins display pairs of things.

Cartoon
The Great Inventor Series: Science Salutes the Men and Women Who Have Changed the Way We Live. Cartoon about the days when people tried drinking ice cream soda before straws were invented. Awful messes were made getting more of the refreshment on their clothes than in their bellies. Until one day an ice cream parlor janitor noticed that when people brought their leashed pet anteaters in to enjoy an ice cream soda, the floor was always sucked completely clean. Realizing that nature had solved the problem, the janitor invented artificial anteater noses that strapped on over people's mouths... which eventually evolved into the modern straw.
Artist: Bruce Cayard
(EKA: Episode 2595)

SCENE 4
Biff's wife, Celeste (a crossing guard), arrives home from work and also insists he get the bowling ball removed. She loves it when they hold hands and they can't with the ball in the way; she suggests calling Dr. Edwynn. Biff reveals he's afraid of the doctor and is assured the procedure won't hurt and he might get a lollypop afterward. Mr. Handford makes the call, as Biff doesn't want to leave the safety of his lover's side.

Film
Baby animals nurse.
Music: Joe Raposo
(EKA: Episode 0581)

Animation
Counting to 10 (Chinese imagery)

Muppets
Ernie and Bert: Ernie keeps catching fish, and Bert doesn't, so Ernie tries moving to a different place on the boat, then not using bait, then just quitting. When Bert finally catches something, it is only a note that reads: "What happened to your friend?"
(First: Episode 3199)

Animation
Cecille sings "Brushin' Down the Doggies."
(First: Episode 2862)




SCENE 5
Dr. Edwynn concludes the only way to remove the ball is a "Bowlectomy." The procedure will need both him and Biff to cooperate. They pull in different directions until the ball is finally off! Everyone is happy he's freed, but Dr. Edwynn now has the ball stuck to his finger. "Is there a doctor in the house?!," he cries.

Cartoon
A mosquito bites a man and a dog, who agree to scratch each other's backs.
Artist: ArtistMike

Animation
A snail shell is uncovered in the sand.
(EKA: Episode 2058)

Muppets
Waiter Grover: In a miraculous feat for Mr. Johnson, Grover serves up a large bowl of spaghetti exactly to his liking. While Grover tends his other tables, he keeps bumping up behind Mr. Johnson and forcing his face into the meal. Grover solves the problem by moving the table away from him, so he can run in front of Mr. Johnson.

Song
"Front Back Ballet"
Artist: Jane Aaron
(First: Episode 3016)

Film
A group of kids pick apples in an orchard, and take them into the cider mill to make apple cider.
(EKA: Episode 2475)

Cartoon
A dog, a girl and a lizard dance to a bongo beat.
Artist: Karen Aqua
(First: Episode 2795)

Muppets / Celebrity
Celia Cruz tells Big Bird about a hummingbird, and sings "Zunzun". (music added to intro)
(EKA: Episode 2521)

Song
"It's Time for a Rhyme"
(First: Episode 3151)

Cartoon
"Love" word animation
(EKA: Episode 0926)

SCENE 6
Free to hold hands once more, Biff and Celeste sing about how they feel when they hold hands together ("Holding Hands"). They then head off on a bowling date.

Cartoon
I Love You, in American Sign Language
Artist: Steve Finkin
(EKA: Episode 1186)

Film
City alphabet (Joe Raposo instrumental with kid voiceover)
(EKA: Episode 0153)
Cartoon
An owl and a bluebird work out a compromise.
(EKA: Episode 2029)

Animation
A girl dances her way into a family portrait.
(First: Episode 3134)

Cartoon
Mi kat iz ... gone
(EKA: Episode 2059)




SCENE 7
Back in Hooper's, Biff and Celeste finish some drinks. They are about to head back to Dr. Edwynn; following the bowling date, Celeste has a ball stuck on her finger. Biff assures her the procedure won't hurt as they head out. Mr. Handford announces the sponsors.