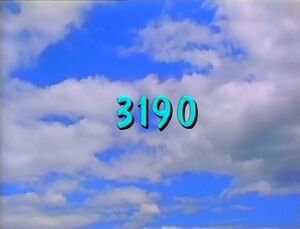 Picture
Segment
Description

COLD OPEN
Gina and Gabi find a series of arrows that say things like "Drink your broccoli" and "Drink your turnips," which confuse them, because you eat vegetables, not drink them. They decide to follow the arrows.




SCENE 1
The arrows lead Gina and Gabi around the corner to Chicago's juice bar - a place where he uses a grinding machine to grind vegetables into juice. Carlo puts the vegetables in the machine, and Chicago turns the crank as he sings a song about vegetable juice ("Drink Your Carrots").

SCENE 1
cont'd
When Chicago finishes the song, a glass is filled up with the juice. Gina doesn't want it, but Chicago does. Carlo gives Gina and Gabi a glass of carrot juice instead.

Cartoon
The Carrot (censored version)
Artist: Bruce Cayard
(EKA: Episode 1211)

Muppets
"It's Zydeco"
(EKA: Episode 2760)

Song
Kevin Clash sings "Skin."
(First: Episode 2749)

Muppets
Sesame Street News Flash
Kermit explores the lab of Professor Nucleus Von Fission, who has just built a robot called the Six Dollar Man, out of parts which cost him six dollars total. The robot destroys the lab, while Von Fission laughs. Kermit is horrified, but Von Fission explains, "What do you expect for six dollars?"
(EKA: Episode 1115)

SCENE 2
In a hip-hop number, Savion gathers Gina, Gabi and some other kids to show them a new way to tap - with your hands.

Muppets
The Two-Headed Monster tries on different pairs of shoes, but can't agree on one pair. They end up agreeing to wear shoe boxes instead.
(EKA: Episode 2142)

Muppets
Big Bird remarks, "Now that was silly!"

Muppets / Cast
"Sing Your Synonyms"
(EKA: Episode 2331)

Animation
Computer G / g
(EKA: Episode 3112)

Muppets
Grover and George sing "Two G Sounds".
(EKA: Episode 0695)

Animation
Pencil box G / g
(First: Episode 3042)

Muppets / Celebrity
Oscar the Grouch puts a sign on his trash can which reads "DON'T BOTHER ME!" A sassy postal worker (Rosie O'Donnell) knocks on his can, and when he asks her "Can't you read?" she shows him how many things she can read. She then walks off to find out where Oscar the Grouch lives so she can deliver the sardine cologne he ordered. Oscar angrily rips up the sign.

Song
"Imagination Landscape"
(First: Episode 2904)

Muppets
The Amazing Mumford sounds out the word MAGIC, then makes himself disappear.
(EKA: Episode 1075)

Film
Children in Jamaica learn how to make their own tie-dyed shirts.
(EKA: Episode 3140)

Muppets / Cast
Bob sings "People in Your Neighborhood" with a dentist and a bus driver. (remake)
(EKA: Episode 2244)

Film
Fay Ray gets on and under a rug.
(EKA: Episode 2707)

Insert
Big Bird goes through his old toy chest with some kids, and encounters a banner with the alphabet on it. He remembers the time he learned what it was, which fades to a flashback of him singing "ABC-DEF-GHI."
(EKA: Episode 2453)

Animation
Playing cards form a capital and lowercase K as a queen and a jack tango.

Cartoon
K is for Karate
(EKA: Episode 1094)

Film
Ornate Ks fly through the air to a song.
(EKA: Episode 2945)

Cartoon
The detective sees a lever, and thinks about what might happen if he pulls the lever, being prepared for anything.
(EKA: Episode 2641)

Muppets
"Cereal Girl"
(EKA: Episode 2687)

Film
Chimps running around (piano music)
(EKA: Episode 2493)

Muppets
"Elmo's Jive Five"
(First: Episode 2939)

Animation
"Five Waltzing Chairs"
Artist: Jane Aaron
(First: Episode 2983)

Muppets
Biff comes home to Roxie Marie, who just found her number collection in the attic. The number on each jar is the amount of each single object in the jar.

Cartoon
A ball goes up and down a musical staircase.
(EKA: Episode 2356)

Film
A Hawaiian girl and her family get ready to have a little party, or paina iki.
(First: Episode 3139)

Cartoon
Animals who eat crunchy things have nice teeth.
(EKA: Episode 1885)

Muppets
A bunch of city folk work together to tend to a garden for me and for you, as they show (in song) that "Cooperation Makes it Happen."
(EKA: Episode 2040)

Cartoon
Sign Man: One Way
(EKA: Episode 1299)

SCENE 3
Gina and Gabi follow some more arrows, which have today's sponsors on them. They say goodbye with Chicago, and a full credit crawl follows.