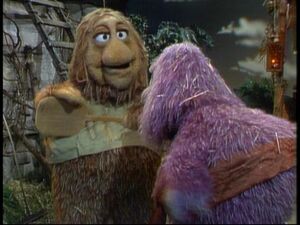 Ma Gorg wants Pa to fix the roof of the Gorgs' Castle when a storm is approaching. Rather than admit that he's too scared to go up the ladder, Pa tells Junior that fixing the roof is a training exercise. At the same time, Mokey Fraggle ends up having to recover Boober's cap when it ends up falling into Ma Gorg's basket, while she was picking radishes.
Meanwhile, Sprocket comes down with laryngitis causing Doc to provide his barking sounds for him when on watch outside.
Notes
Supporting cast
Songs
Video releases
Ad blocker interference detected!
Wikia is a free-to-use site that makes money from advertising. We have a modified experience for viewers using ad blockers

Wikia is not accessible if you've made further modifications. Remove the custom ad blocker rule(s) and the page will load as expected.