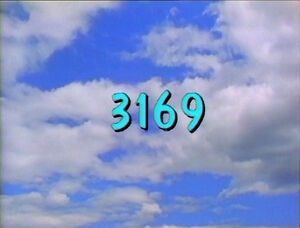 Picture
Segment
Description




SCENE 1
Big Bird, Gabi and Elmo welcome the viewer and present a poem about the sponsors. Elmo needs help making up rhymes for the word of the day, hot. They give him help, and soon, he can't stop making rhymes for "hot".

Animation
Match the word HOT. (new music added)
(EKA: Episode 2396)

Song
"Reach Your Hand Up High"
(EKA: Episode 2750)

Cartoon
O for open, off, owl, ocean
(EKA: Episode 3091)

Muppets
Director Kermit is filming Oklahoma with Forgetful Jones as the star. Forgetful is supposed to enter sing "Oklahoma!" but sings "Aklahoma!", "Eeklahoma!" and "Iklahoma!" instead. When he finally gets it right, the production assistant says it's time for lunch.
(EKA: Episode 2594)

Film
A gymnast twirls ribbons to form the letter O.
(First: Episode 3136)
This segment was cut from the Noggin version.

SCENE 2
Elmo makes a few more rhymes, when he can't think of anymore. Maria tells him that he can play something else until he thinks of more rhymes, or he could start over with a new word. Elmo thanks her by giving her his "HOT" sign.

Cartoon
"The Room Is Full of Chickens"
(EKA: Episode 3035)

Muppets
Ernie and Bert: Ernie gets Bert to participate in a rhyming game, but Ernie ends the game just as Bert is starting to enjoy it.
(EKA: Episode 0798)

Cartoon
Hortense beats one drum.
Artist: Michael Sporn
(EKA: Episode 2623)

Muppets
Monsterpiece Theater: One Flew Over the Cuckoo's Nest
(EKA: Episode 2982)

Cartoon
Kids count one duck in the pond
(EKA: Episode 3095)

Muppets / Celebrity
As Los Lobos perform "El Canelo," the title character goes grocery-shopping for them.
(EKA: Episode 3113)

Film
A girl's grandmother teaches Spanish to her parrot Kuka.
(EKA: Episode 3101)

Cartoon
A man assembles the word LOVE, and a bird pecks the O into the shape of a heart.
(EKA: Episode 2921)
This segment was cut from the Noggin version

Muppets
Telly is shocked to see Little Chrissy and the Alphabeats at the library. They explain that in addition to being rock stars, they're also "Rock 'N Roll Readers."
(EKA: Episode 2776)

Film
A girl floats around in a circle.

Cartoon
Edgar Turtle sings "Green Grow the Rushes, O."
Artist: Jeff Hale
(EKA: Episode 2440)

Muppets
Muppet & Kid Moments: Erik shows Grover his teeth, and tells him how teeth are used.
(EKA: Episode 2234)

Cartoon
A toothbrush talks to a mouth about what could happen if not taken care of.
(EKA: Episode 2572)
This segment was cut from the Noggin version

SCENE 3
Elmo, Gabi, Big Bird and Prairie Dawn are assembled at the playground, wondering what to play. Prairie suggests they play scientists and think of a question they could find an answer to. Elmo notices Big Bird pacing back and forth and wonders why he's walking like that, inspiring them to make a question: Why do people walk instead of hopping? They split up and go to find an answer.

Animation
See the lion walk.
(EKA: Episode 2205)

Song
"Froggy Kickin'"
(EKA: Episode 2412)

Cartoon
Junior has to jump across the pond to make the frog chorus.
(EKA: Episode 0926)
This segment was cut from the Noggin version

Muppets
"Pond Full of Fish"
(EKA: Episode 2840)

Cartoon
While fishing one day, a boy catches the letters of the alphabet. Frustrated at not having caught any fish to eat, he decides to use his catch for alphabet soup.
(First: Episode 0004)

Film
A child narrates a film of him and his brother, Andrew, taking a ride on the ferry.
(EKA: Episode 2951)

Cartoon
A purple elephant tries to get 10 peanuts in his trunk at once, but can't, so he smushes them into peanut butter instead.
(EKA: Episode 2987)

SCENE 4
Big Bird and Gabi run into Carlo and ask him why he walks instead of hopping on one leg. He tells them to try it out for themselves. They try hopping to Big Bird's nest and find it's difficult and tiring to hop a lot.

SCENE 4 cont'd
Elmo and Prairie stop Mr. Handford and ask him. He tells them that he's able to get around faster by walking.

SCENE 4 cont'd
Back at the playground, they share their discoveries and conclude it's better to walk than hop, unless you're a frog or a rabbit. They hop along with the animals, and Prairie remarks "Don't you just love science?"

Cartoon
Dr. Annie Eyeball, PhD., looks at breathing.
Artist: Bruce Cayard
(EKA: Episode 2615)
This segment was cut from the Noggin version

Muppets
Caribbean Anything Muppets sing about "Caribbean Air."
(EKA: Episode 2758)

Cartoon
A poem about changing seasons.
(EKA: Episode 1093)
This segment was cut from the Noggin version.

Film
How paper is recycled
(First: Episode 2627)

Cartoon
Jasper and Julius: Apple
(EKA: Episode 0833)
This segment was cut from the Noggin version.

Muppets
"Six Kids Subtraction"
(EKA: Episode 2902)

Cartoon
V for violin
Artist: Jeff Hale
(EKA: Episode 1285)

Animation
Ornate Vs spin around as a song about them plays.
(EKA: Episode 2942)

Animation
Sand V/v
(EKA: Episode 1291)

SCENE 5
The rabbit and frog hop some more, until the rabbit stops and asks the frog if he ever wonders why they don't walk. The frog replies "Nope" and they continue hopping. Maria announces the sponsors.
Ad blocker interference detected!
Wikia is a free-to-use site that makes money from advertising. We have a modified experience for viewers using ad blockers

Wikia is not accessible if you've made further modifications. Remove the custom ad blocker rule(s) and the page will load as expected.