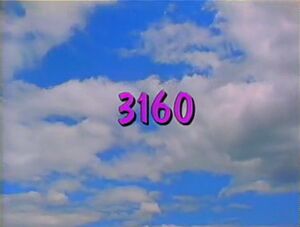 This episode guide is missing segments cut from Noggin's broadcast.
Picture
Segment
Description

COLD OPEN
Today on Sesame Street, Big Bird is pretending to be a daddy, with Rosita as the mommy and Elmo as the bawling baby.

SCENE 1
Baby Elmo is still crying, then breaks character to tell his pretend parents they should ask why he's crying. He claims he's hungry and they give him his bottle.

Song
"It's All Right to Cry"
(EKA: Episode 3154)

Cartoon
Mandrake the magician does magic, while Mo the mechanic mends a martian's flying machine.

Film / Muppets
Alphaquest: M
The girl uses mittens to make monster mush, which is eaten by a Muppet monster.
(EKA: Episode 2750)

Cartoon
A baby climbs up the stairs all by himself.
(EKA: Episode 1736)
This segment was cut from the Noggin version.

SCENE 2
Big Bird and Rosita try putting Baby Elmo to sleep with a lullaby (as per Elmo's suggestion). The lullaby doesn't work, so Rosita goes off for advice from someone with parenting experience.

Song
"Mom and Me"
(EKA: Episode 2624)

Cartoon
How they say "good night" in Haiti and in India.
(EKA: Episode 2062)

Muppets
Prairie Dawn talks about three important parts of the face which are the eyes, the nose, and the ears, with assistance from Cookie Monster. Prairie agrees that cookies can be seen and smelled, but not heard - unless eaten by Cookie Monster.
(EKA: Episode 2874)

Cartoon
They'd play with me if I had...
(EKA: Episode 0815)
This segment was cut from the Noggin version.




SCENE 3
Rosita brings back Luis, who used to put Gabi to sleep. He narrates the story of Goodnight Moon from memory and successfully puts the whole family to sleep.

Song
Joe Raposo sings "Everybody Sleeps" (re-filmed version)
(EKA: Episode 3026)

Cartoon
O is for Open
(First: Episode 0014)

Muppets / Celebrity
"That's the Letter O"
(EKA: Episode 3066)

Animation
Planting Letters: O
(First: Episode 3010)

Cartoon
African quilt pattern

Song
"Do the Jelly" with Celina

Cartoon
What if I looked like George Washington...
(EKA: Episode 2257)

Film
Kids in Jamaica play bongo drums.

Song
Sesame Street Creature Feature: The Iguana
(EKA: Episode 3021)

Animation
Abstract count to 13.
(EKA: Episode 2849)

SCENE 4
Baby Elmo wants to be rocked while he sleeps. His parents initially rock too slowly for him, then go fast he's launched from his carriage.

Animation
Can you find the elephant in the painting?
(EKA: Episode 3056)

Song
"It's Time for a Rhyme"

Muppets
Baby Tooth and the Funky Funk: Caribbean dance
Part 1
(EKA: Episode 3136)

Cartoon
A boy thinks it's raining outside, so he puts on his rain gear and goes outside, only to find sunny weather. It turns out the lawn sprinkler was near his window.
(EKA: Episode 2228)

Cast
Linda signs the word "pie," and gets hit with one, to Gordon's surprise.
(EKA: Episode 2734)

Animation
Playing cards form an M, then dance the mambo.

Muppets
Sesame Street News Flash
Kermit interviews a bird who sings about how her parents still love her even though they don't live together anymore (though it is not directly stated whether her parents are divorced or separated).
(EKA: Episode 2837)

Cartoon
Don't mess with the Mighty M.
Artist: Bruce Cayard
(EKA: Episode 1839)

SCENE 5
Big Bird and Rosita teach Baby Elmo how to walk. He gets so good, he ends up running away.

Song
"Beautiful Baby" song, over footage of various babies and their parents.
(EKA: Episode 2226)

Muppets
Baby Tooth and the Funky Funk: Caribbean dance
Part 2
(EKA: Episode 3136)

Cartoon
Joe's Lap (limerick)
(EKA: Episode 0825)

Muppets
Two flowers, a baby sparrow, and two bunnies sing "That's How I Got Here."
(EKA: Episode 3040)

Animation
Fans reveal the letter O.
(EKA: Episode 3021)

Song
"We Got the Power!" - a hip-hop song about computers
(EKA: Episode 3058)

Muppets
Baby Tooth and the Funky Funk: Caribbean dance
Part 3
(EKA: Episode 3136)

Animation
Kids talk about families, often mentioning having rhinoceroses as pets.
(EKA: Episode 2759)




SCENE 6
The pretend family runs into a real family - Jamal, Angela and Kayla. The proud parents list of their favorite things about Kayla, making the pretend family realize they didn't show as much love to their baby. The pretend family gathers for hugs and kisses, while Elmo announces the sponsors.
Notes
Ad blocker interference detected!
Wikia is a free-to-use site that makes money from advertising. We have a modified experience for viewers using ad blockers

Wikia is not accessible if you've made further modifications. Remove the custom ad blocker rule(s) and the page will load as expected.