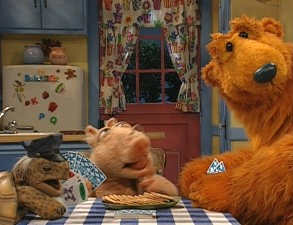 Bear, Tutter, Treelo, Ojo, Pip and Pop have just had a sleepover and now Bear is waking up in the morning. It's still early, but the sun's about to rise and then everyone will be getting up. Some rise faster than others --- for example, Ojo finds all the morning noise upsetting at first, but given just a bit longer to sleep, she's good to go. Bear gets everybody going with a good breakfast. Treelo wants to run and play, but Bear helps him to appreciate that breakfast will give him the fuel to do that. Then, fueled and ready to go, they head for the events of the day. While Tutter, Treelo and Ojo go out flower-sniffing, Pip and Pop decide to go riding in their inner-tubes. When Pop can't find his, they all help to tidy up the house in an effort to find it. Bear then settles down to read a book, but not before the Shadow segment. Shadow sings a song about the morning, featuring a newspaper-fetching dog and sweetly-mooing cows.
Songs
Notes
Ray, the sun, appears in this episode, but Geoffrey Holder is uncredited.
The dog in the Shadow Projects logo in the closing credits meows twice.
Video releases
Ad blocker interference detected!
Wikia is a free-to-use site that makes money from advertising. We have a modified experience for viewers using ad blockers

Wikia is not accessible if you've made further modifications. Remove the custom ad blocker rule(s) and the page will load as expected.