Episode 315: Lesley Ann Warren
Talk

5
25,900pages on
this wiki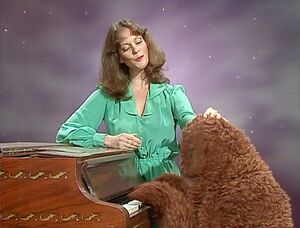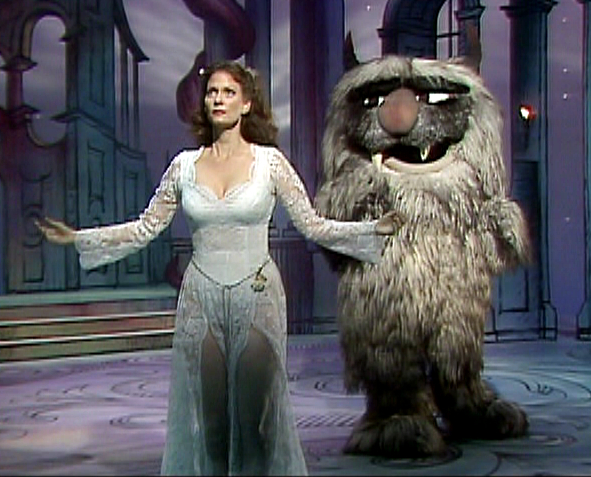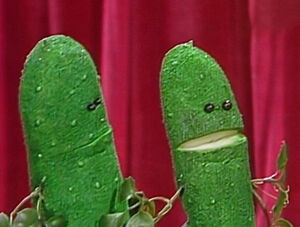 Gonzo unveils his new act: riding his motorcycle up a ramp and into Statler and Waldorf's theater box, having first taken the safety precaution of chaining them to their chairs while they were dozing. Of course, the bike doesn't even get off the ramp... the first time.
Meanwhile, Kermit doesn't realize that he's booked Lesley Ann Warren; he thought he was getting "Leslie and Warren, the knife throwing act". He's thrilled to learn that his guest star is the multi-talented Ms. Warren, but over the course of the episode, other ersatz guest stars approach, including Lesley and Warren, the Dancing Cucumbers, and a trio named Les, Lee and Warren.
Songs/Sketches
Cold Open : Lesley is pestered by the Luncheon Counter Monster.
Gonzo's Motorcycle Act: Attempt 1
Lesley performs a ballet, "Beasty and the Beaut", with Doglion. Both tender and parodical number.
Pigs in Space (Dummo Rays): The Swinetrek passes through Dummo Rays, which only affect people of extremely low intelligence. Link is immobilized, and "Captain Piggy" takes over.
UK Spot: Dr. Teeth reinterprets "Mack the Knife" for Sam the Eagle
Lesley is shocked when she discovers her accompanist is Marvin Suggs and his Muppaphone to "The Blue Danube". She accuses him of being cruel because he makes music by hitting live creatures. "Of course they're alive!" he cries. "You can't make music by hitting dead creatures!" Eventually, Rowlf emerges and reveals that he'd been locked in his dressing room by someone anonymous. Actually, the Muppaphones try to reveal that it was Marvin, but the latter tells them to shut up and threatens to rename them the "Finkaphones". Rowlf dismisses that and tells Marvin to strike up the Muppaphones, much to the rapture (pleasure) of Marvin and the shock of Lesley.
"Just the Way You Are": Lesley and Rowlf the Dog
Gonzo's Motorcycle Act: Attempt 2
"Last Dance": Lesley and Link in a night club. Lesley is a combative dancer.
Cast
Muppets:
Background Muppets:
Performers