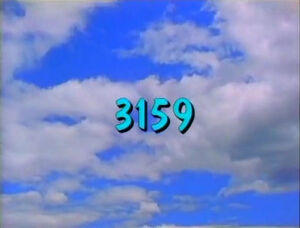 Picture
Segment
Description

COLD OPEN
Telly and Rosita argue who will clap the cymbals to start off the show. Big Bird wonders if they will be able to solve their problem.

SCENE 1
If Telly and Rosita each hold a cymbal, they can bang them together.

Cartoon
All the instruments in Sousaville love Mr. Tuba's music, but when he plays with them, he doesn't play the same music they're playing.
Artist: ArtistMike
(First: Episode 2829)

Film
The Count (in voiceover) subtracts from five to three to zero children on a park bench.
(EKA: Episode 2942)

Muppets
As a Sesame Street Travel Tip, a pair of Anything Muppets sing about the latest travel destination, Antarctica!
(First: Episode 2938)

Cartoon
A girl explains in poem how she failed trying to make a snowman without using snow. (new music added)
(EKA: Episode 1019)




SCENE 2
Telly and Rosita announce the sponsors and introduce Zoe, who is running around in a tiger suit because "nobody tickles a tiger."

Song
David sings "Who You Looking At, Tiger?"
Refilmed version
(EKA: Episode 2608)
This segment was cut from the Noggin version.

Muppets
Big Bird: "That was great! Makes you proud to be an animal, doesn't it?"

Animation
16 TV sets are counted.
(EKA: Episode 2882)

Celebrity
Blair Underwood swings Elmo sixteen times.
(EKA: Episode 2794)

Cartoon
"I've Got The 16 Blues"
(EKA: Episode 2755)

Muppets
The Two-Headed Monster drives a car, but puts on the seat belt first.
(EKA: Episode 1966)

Song
"Imagination Landscape"
(First: Episode 2904)

SCENE 3
Telly and Rosita decide together to ask Zoe why she said, "Nobody tickles a tiger." Her answer is that her Aunt Chloe is coming to visit. This perplexes Telly and Rosita even more.

Cartoon
"Do the Continental" - two kids jump into Africa.
(EKA: Episode 2820)

Film
In a village in Africa, people catch fish, and celebrate afterwards.
(EKA: Episode 2777)

Cartoon
A man creates an avalanche on the letter A.
(EKA: Episode 0132)
new sound effects added

Muppets
Muppet & Kid Moments: Kermit asks Grover and Debo to identify his letter A. Grover has no idea. When Debo says "A," Kermit says "Ay" to someone offscreen.

Cartoon
Sand A/a
(EKA: Episode 2813)




SCENE 4
Zoe explains that her tiger suit is her plan to avoid being tickled by Aunt Chloe, who likes to "Coochie coochie coo" her. She arrives and tickles Zoe, Telly and Rosita.

Song
"(The Name of the Place is) The Laundromat"

Cartoon
Y for yawn
(EKA: Episode 0301)

Muppets
Ernie and Bert: Ernie tries to use a scale to divide the cherries evenly, but he characteristically eats them all. Bert screams and faints.
(EKA: Episode 1484)

Cartoon
Edgar Turtle plays the banjo as some kids sing the "Bird Song."
(EKA: Episode 2390)

Film
A child in a classroom draws a picture of her dog Puck, and goes over the care required to keep a pet. A Bert and Baby Fozzie plush can be seen in the little girl's bedroom.
(EKA: Episode 2853)

Cartoon
A poem about dogs of different sizes, feelings and colors.
Artist: Deanna Morse
(First: Episode 2924)




SCENE 5
Telly suggests to Zoe running away from her aunt, but she can't do that. Zoe thinks that her aunt might not be able to tickle her when she's carrying a pineapple.

Animation
"Pineapple Addition"
Artist: Jane Aaron
This segment was cut from the Noggin version.




Celebrity/
Muppets
Grover sings "Monster in the Mirror." (Celebrity Version)
(First: Episode 2835)

Cartoon
Fluffy recalls being a homeless dog, getting taken in to the dog pound, and meeting his new pal Petey.
Artist: ArtistMike
(First: Episode 2981)

Muppets
Ernie and Bert: Bert has gone to visit his brother Bart. Ernie pretends that Bert is still there using a drawing and a pillow, but it isn't the same. Then, Ernie remembers Bert will be back tomorrow, and can go back to bed. (new music added)
(EKA: Episode 2508)

Song
"Ja, Ja, That is the Mountain"
Artist: Jane Aaron
(EKA: Episode 2780)




SCENE 6
Zoe tells them how she was successful, but had to carry the heavy pineapple all around the zoo. Luis tells the story of how he similarly stopped his uncle Humberto from tweaking his nose. Zoe confronts Aunt Chloe and tells the truth, which works. Leaving, Aunt Chloe says goodbye to everyone, and tweaks Luis's nose.

Cartoon
A cartoon man is irritated to find that he has a succession of animal noses.
(EKA: Episode 0810)

Muppets
"The Sneeze Song," with Kathleen the Cow with a Pig, a Sheep, and Fred the Wonder Horse.
(First: Episode 2784)

Cartoon
The Typewriter: Y for Yo-Yo
Artist: Jeff Hale
(EKA: Episode 1858)

Film
Cheri goes fishing with her abuelo.
(EKA: Episode 2784)

SCENE 7
Telly and Rosita announce the sponsors. However, they don't use the "cooperation cymbals" until the "big goodbye": the very end, when Luis is almost between them.