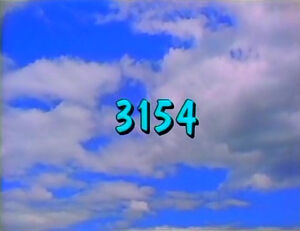 Picture
Segment
Description

COLD OPEN
Biff and Sully introduce the episodes' letter sponsors.




SCENE 1
Lea Salonga sings "A Little Bit" to a duck, Big Bird, and the Birdketeers.

Cartoon
A dog-shaped television.
Artist: Keith Haring
(EKA: Episode 3045)

Song
"We're Talking 'Bout the Number One"

Muppets
Monsterpiece Theater: One Flew Over the Cuckoo's Nest
(EKA: Episode 2871)

Cartoon
Kids count one duck in the pond.
Artist: Lisa Crafts
(EKA: Episode 3095)

Film
A girl who lives in El Salvador plays a counting game with her class, which involves running around and getting into groups of a number when it is called.
(First: Episode 3012)
Cut from the Noggin version

Film
A boy draws a picture of his friend, Katie.
(First: Episode 2760)
Cut from the Noggin version

SCENE 2
Biff tries to get Sully to talk about closed and open.

Film
Kids sing the alphabet on an island.

Cartoon
Letter B becomes a banana and broccoli
(EKA: Episode 2761)

Film
Alphaquest: B
(EKA: Episode 2866)

Cartoon
B for bathtub, ball, boat, boot, boomerang, brush and bison
Cut from the Noggin version

Muppets
"Gonna Rock You to Sleep" by Little Chrissy and the Alphabeats
(EKA: Episode 2980)

Cartoon
Zork lands in Australia, where a kangaroo greets him.
Artist: ArtistMike
(EKA: Episode 2790)
Cut from the Noggin version

Muppets / Celebrity
Telly hosts "The Wide Wide World of the World" with special guests from Australia, Mel Gibson and a duck claiming to be a duck-billed platypus.
(First: Episode 3021)

Cartoon
A gorilla outgrows his toy fire truck, and is about to throw it away, when he decides to pass it on to his little brother.
(EKA: Episode 2840)
Cut from the Noggin version

SCENE 3
Prairie Dawn considers buying Little Boy Blue's horn. However, she changes her mind because she doesn't want the animals that the horn attracts.

Film
Shapes vibrate as girls beat on their drums.
(EKA: Episode 2873)

Muppets
Ernie and Bert: Ernie decorates the apartment with party supplies. Bert thinks it is for somebody's birthday and tries to guess whose birthday it is, but Ernie informs Bert that he decorated the apartment for the audience at home.
(EKA: Episode 0352)

Cartoon
Two men talk about the letter q, as one man uses a lower case q as a hatrack
(First: Episode 0131)

Cast
Maria and Linda sew quilts with a Q on them.
(EKA: Episode 1952)

Cartoon
A little boy tries to use a tall water fountain
(EKA: Episode 0984)

Song
Jerry Nelson sings "Don't Waste Water."
(First: Episode 2804)

Cartoon
Several rabbits try to pull a carrot from the ground
Artist: Irra Verbitsky
(EKA: Episode 2208)




SCENE 4
Herry Monster looks for something to buy at Finders Keepers. Ruthie calls Little Boy Blue and convinces him to buy back the horn, but Herry blows it. "The sheep in the meadow and the cow in the corn" return, make a huge mess and drive Herry out of the store.

Song
"It's All Right to Cry"

Cartoon
Geometry of Circles #4 "Six Circles Connected"
(First: Episode 1437)

Film
College students volunteer at the San Francisco Children's Zoo, which has such animals as ferrets, possums and chinchillas.
Music: Joe Raposo
(EKA: Episode 2227)




Muppets
The Oinker Sisters sing "A New Way to Walk."
(EKA: Episode 2398)

Cartoon
Slot machine legs: Cowboy & horse
(EKA: Episode 2073)




SCENE 5
Little Boy Blue takes his horn back and trades in his clarinet. Now, the clarinet attracts cats and dogs.

Animation
Three stripes form a jazz trio.
(EKA: Episode 2410)

Muppets
Muppet & Kid Moments: Grover asks Chelsea, What is love?
(EKA: Episode 2404)

Cartoon
A man learns that it's better not to pick the flowers
(EKA: Episode 0808)

Muppets
Cerrado with Maria and an Anything Muppet (part 1). He sings a song about how everything is Cerrado, and at the end Maria gives him an Abierto sign, which opens everything in the house.
(First: Episode 3015)

Cartoon
A monster sees a box that keeps opening and closing, saying "Abierto" and "Cerrado."
(EKA: Episode 0817)

Muppets
Abierto with Maria and an Anything Muppet (part 2). Now he sings a similar song about Abierto, and Maria's Cerrado sign closes everything.
(First: Episode 3015)

Film
A flower opens and closes
(EKA: Episode 0441)




SCENE 6
Biff announces the sponsors while Sully stays out of the way. Still, the animals from Little Boy Blue's Horn get Sully.