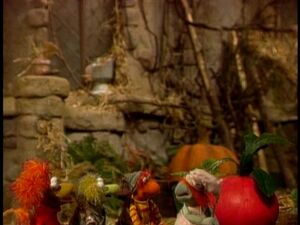 Boober needs a radish for his radish roast. When the Fraggles discover the largest radish ever known growing in Junior Gorg's garden, they set about getting it. The radish, Junior named Geraldine, turns out to be the closest thing to a friend Junior has. Mokey must rescue Geraldine before she becomes part of one of Boober's recipes.
Meanwhile, Doc's planned trip to his high school reunion with Henry Sackbutt is interrupted when Sprocket is trapped inside a trunk.
Fraggle Facts
Notes
Goofs
Puppeteer Bob Stutt receives a double named credit in the end of episode credit roll.
Songs
Video releases
Book adaptations
Ad blocker interference detected!
Wikia is a free-to-use site that makes money from advertising. We have a modified experience for viewers using ad blockers

Wikia is not accessible if you've made further modifications. Remove the custom ad blocker rule(s) and the page will load as expected.