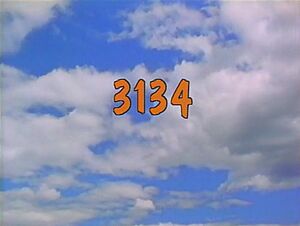 Picture
Segment
Description

COLD OPEN
At the Fix-it Shop, Snuffy approaches Luis with his Snufflepuppet, Gus, who is looking for a job that will pay "a jillion kazillion dollars." Luis gives Gus the task of mentioning today's sponsors,




SCENE 1
Snuffy suggests to Luis that Gus' next job could be translating the Fix-it Shop's "Se habla español" sign. Luis goes along with it, so Gus goes to work. Grundgetta, Savion and Rosita pass by, but it turns out they already know what the sign means, which frustrates Gus. Rosita lets Gus do his job, and gives him a hug, which he thinks is better than "a jillion kazillion dollars."

Cartoon
Song: "If You've Lost Your L, Look Around"
Artist: Bruce Cayard
(EKA: Episode 1845)

Celebrity
Paul Simon and Ladysmith Black Mambazo sing the African Alphabet Song.
(EKA: Episode 2480)

Animation
African quilt pattern #2

Muppets
Monsterpiece Theater: "Monsters with Dirty Faces"

Cartoon
The detective sees a lever, and thinks about what might happen if he pulls the lever, being prepared for anything.
(EKA: Episode 2641)

Muppets
Muppet & Kid Moments: Telly and Shaun look at the word CAT, and Chicago the Lion says he likes the word because he's a kind of cat.

Animation
Fred the fish needs water to swim in, and Betty the bird needs air to fly in. Vanessa the vacuum cleaner sucks up all the air and water, but can't hold it all in. (new narration by Jim Thurman added)
(EKA: Episode 2642)

Animation
A girl dances her way into a family portrait.

Muppets
In a spoof of "Indian Love Call," a woman sings of how much she loves the word "you."

Animation
Can you find the animals in the painting?
Artists: The Hubleys
(EKA: Episode 2776)

Film
A baby messes around (literally) with a chocolate cookie, as Cookie Monster (in voice-over) wishes it was for him.
(First: Episode 0407)

Animation
A girl's narration describing the city is illustrated with cutout animation.
(EKA: Episode 2931)

SCENE 2
Savion and Merry are about to have snacks together, when Merry asks him to read the words on her orange juice box. She then learns the meaning of "shake well before drinking."

Film / Animation
Oranges are peeled and sliced in stop-motion, and some kids eat them.
(EKA: Episode 2283)

Cartoon
Dry and Wet (near swimming pool)
Artist: Cliff Roberts
(EKA: Episode 0597)

Muppets
Little Chrissy always has fun whether he's "Wet or Dry."

Cartoon
Z for Zebu
Artist: Bud Luckey
(EKA: Episode 2789)

Film
How Crayons are Made
Music: "Water Course A" and "Exchange" by Richard Harvey
(First: Episode 1590)

SCENE 3
Merry plays a guessing game with Telly, where she covers her eyes and tries to guess which sound Telly is making. Her guesses accurately describe what's really happening to Telly, which makes him frustrated.

Animation
A girl skips home through the city, hearing all kinds of noises. When she gets home, she repeats all the noises she heard with a little dance.
Artist: John Korty
(EKA: Episode 2595)




Muppets
Polly Darton sings "Save Your Energy for Me," a song about energy conservation.

Cartoon
A man points to the number 2 on a door, and counts 2 of his fingers (and 2 dinosaurs).
Artist: Chris Hinton
(EKA: Episode 3097)

Film
A boy's mother and grandmother make him a pair of moccasins.
(EKA: Episode 2987)

Cartoon
A girl notices some footprints near and far to her. They belong to a giant purple bird.
Artist: Fred Garbers

Muppets
Snuffy wears a green derby hat as he sings about L, "The Leading Letter of My Life."
(EKA: Episode 2313)

Cartoon
L - shooting stars
(EKA: Episode 2313)




Song
"What's Inside?" (Cookie Monster cameo)

Cartoon
How Andy Fritz Ate the Sun.
Artist: ArtistMike
(EKA: Episode 2749)

Muppets
Ernie and Elmo sing about the parts that make up "One Fine Face."
(EKA: Episode 2390)

Cartoon
A St. Bernard helps Zork down a snowy hill, later finding out that Zork wanted to go skiing.
Artist: ArtistMike
(EKA: Episode 2882)

Muppets / Celebrity
Annette Bening wants to travel with Super Grover when he is helping others, but both have trouble in figuring out how to get around since Annette cannot fly.

Animation
Amelia likes to pretend she can fly.
(EKA: Episode 2902)

Animation
Cecille sings "Up Down, In Out, Over and Under."
(First: Episode 2746)

Muppets
Jimmy is upset about moving to a new house, but Hoots the Owl shows up and sings "Things Are Always Changing."
(EKA: Episode 3035)

Cartoon
Mary Shaboom reluctantly moves to a new house, and muses about the consequences.
(EKA: Episode 2959)




SCENE 4
Merry drives Telly crazy as she continues to accurately guess what he's doing. She hears the closing music, and announces the sponsors.