Although he initially loves the show, James talks Kermit into adding some "razzle-dazzle" to "dull, slow-moving acts" like the Swedish Chef. After messing up several acts with his concepts, including Spanish dancers with the Chef, and chorus girls in Veterinarian's Hospital, James decides to downsize for his closing number... to the point that he's the big man on stage!
Songs/Sketches
James, Fozzie and Beauregard attempt to do "The Medium Sketch".
The Swedish Chef makes a banana split.
Closing Gag: Waldorf asks if they can leave. Statler asks why should they leave, the worst part is over.
Episode
| Picture | Description |
| --- | --- |
| | James Coco asks Scooter to have wardrobe press his jacket. His wardrobe pins him to the floor. |
| | "The Muppet Show Theme": Beauregard has the script ready, but lets it fly all over.Four trumpets blare from each angle around Gonzo. |
| | Kermit introduces the show and describes the opening, underwater number, exclaiming "Last one in is a sissy!" |
| | Robin the Frog and Kermit sing "Octopus' Garden" with an aquatic band, Miss Piggy as a mermaid and Animal, who's chased by a large stingray. |
| | Kermit calls to action the Dancing Sponges, whose act will clean up the water from the previous number. Miss Piggy says she enjoyed the water, which means she'll live at his place when they're married. |
| | Fozzie Bear, a character with no future, goes to a medium to get his fortune told. James, who plays the medium, unveils his crystal ball, only to find that Beauregard has gotten his head stuck in it. Suddenly, the ghost of Chester Pugh appears, not realizing he's at a different séance, and a fake one at that. When he finds he's on TV, he sends a special message to his loved ones by singing "Danny Boy." |
| | Sam the Eagle, appalled by the sketch, has finally had it and says he's leaving forever. Floyd (the only one around) doesn't mind and asks him to empty the trash on his way out. He decides to stay when he sees Rowlf about play a tribute to Ludwig van Beethoven, his favorite playwright. |
| | Rowlf plays "Eight Little Notes" with the help of his singing bust of Beethoven. |
| | UK Spot: Robin tells Kermit he can't sleep, fearing the presence of snakes. Kermit has him imagine the beauty of snakes. Robin envisions a quartet of snakes dancing to an upbeat version of "In a Persian Market." Afterward, the snakes have joined them in the bedroom. |
| | James compliments Kermit on running such a smooth, fast-paced show. They then see the Swedish Chef meandering by, singing a slow tune. James doesn't like the look of the next act and decides to add some "razzle-dazzle." |
| | The Swedish Chef tries to prepare a banana split (with an axe), but is constantly distracted by some Spanish dancers, causing him to hit a pot on his head and send his axe flying. He takes care of the dancers by throwing the peel on the floor. |
| | James thinks the next act (a singer) will go great, until he hears Wayne's off-key voice. |
| | Wayne sings "Catch a Falling Star" until Scooter points out the star is burning his pants. A clown-pig extinguishes him, and the dancers and snakes pass by. |
| | Kermit describes the next sketch to James, who thinks it's also going to be a dud, unless they add some girls to the mix. |
| | Veterinarian's Hospital: The crew is going to take out the appendix of one of the Spanish dancers, but are repeatedly interrupted by some dancing chorus girls. Dr. Bob decides to not take out the appendix, but rather the blonde on the end! |
| | Kermit now tells James about the grand finale for the show and the spectacular set they have. James insists that he'd rather do something small. |
| | Backed up by a band of short Muppets, James sings "Short People." Soon after, Thog bursts on the stage and yells "Hi, Shorty!" |
| | The short people have no grievance with James after the number, but take Kermit and begin hurling him into the air. |
Cast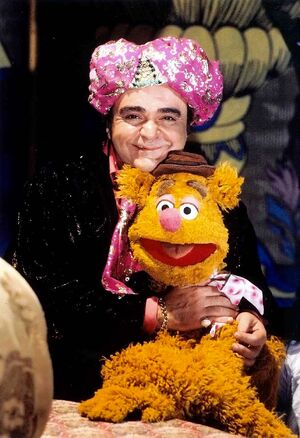 Muppets:
Background Muppets:
Performers
External links
Ad blocker interference detected!
Wikia is a free-to-use site that makes money from advertising. We have a modified experience for viewers using ad blockers

Wikia is not accessible if you've made further modifications. Remove the custom ad blocker rule(s) and the page will load as expected.